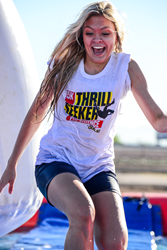 Never before has there been this many As Seen on TV Stunts available for the public to try in a safe and fun environment
Salt Lake City, UT (PRWEB) May 07, 2015
Due to unprecedented ticket sales, organizers of the ThrillSeeker Stunt Run announced today that the Stunt Run will move from the Salt Lake County Equestrian Park to Hee Haw Farms in Pleasant Grove for its thrilling event on May 23, 2015.
"We're excited to make the World's only Stunt Run available and to bring this incredible thrill-seeking festival to the huge fan base in the Intermountain region," said Jared Willardsen, Stunt Expert and former stunt producer of Nitro Circus and Fuel TV's ThrillBillies. He adds, "Never before has there been this many As Seen on TV Stunts available for the public to try in a safe and fun environment. It doesn't matter if you plan to run, walk or just spectate, we have a stunt experience for everyone."
With more than a dozen over-the-top stunt obstacles, guests will be able to experience speedy zip lines, the world's largest inflatable water slide, a Tarzan-like swing, punching walls, adult size drift trikes, and much more.
For more information about how to register and for festival information, visit http://www.StuntRun.com