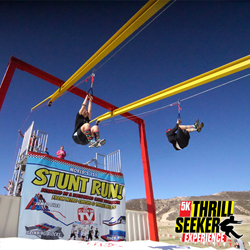 There's nothing more thrilling than saving someone's life and we are excited to continue developing a community around that focus
Mesa, AZ (PRWEB) December 30, 2014
In keeping with the habit of creating world's firsts, the ThrillSeeker 5K Stunt Run is bringing another first to the world of sports by giving participants the option to "Pay It Forward" and purchase, at a discounted rate, an additional registration for a bone marrow donor, recipient, or a member of their support team.
Guardian Angel Council (GAC), the presenter of The ThrillSeeker 5K Stunt Run, is taking every opportunity possible to increase the support available to cancer patients. GAC recognizes the revitalizing value of fun and a sense of community in cancer patients' fight, and wants participants to have the chance to experience the thrill of giving that gift as well.
By adding a Pay It Forward discounted registration to their cart at checkout, participants are giving a day of stress-free fun and thrills to those who have received a bone marrow donation, donated bone marrow or supported Be The Match® in making these donations happen.
Thomas Levi Leyba, Director of Guardian Angel Council, said, "There's nothing more thrilling than saving someone's life and we are excited to continue developing a community around that focus."
ThrillSeekers who Pay It Forward will be honored on the Stunt Run Wall of Awesome, receive a unique Stunt Run item designating them as contributors, and a thank you mention on event day.
About ThrillSeeker 5K Stunt Run
The ThrillSeeker 5K Stunt Run is a one-of-a-kind obstacle course designed by actual Hollywood stunt producers. The Stunt Run offers over a dozen exciting "as seen on TV" stunts that give the opportunity to experience heart-pounding challenges while in a safe, family-friendly environment. Proceeds benefit Be The Match®, and participants are encouraged to register for the bone marrow donor registry at the time of the event. Full schedule and course map available at http://www.stuntrun.com.
About Guardian Angel Council
Guardian Angel Council (GAC) is a 501(c)(3) that exists to create awareness for the National Bone Marrow Donor Program, specifically through the Be The Match® Registry. There is an ever-growing need for marrow donors, as there is a 1-in-4 chance of having a sibling be a match, and about 70% of patients in need of a transplant do not have a suitable donor in their family. GAC pays special attention to increasing minority participation in the registry - minorities make up only 30% of potential donors, and patients are more likely to find that life-saving match from donors of their own ethnic background. For more information, please visit http://www.gacouncil.org.
About Be The Match®
For people with life-threatening blood cancers—like leukemia and lymphoma—or other diseases, a cure exists. Be The Match® connects patients with their donor match for a life-saving marrow or umbilical cord blood transplant. People can contribute to the cure as a member of the Be The Match Registry®, financial contributor or volunteer. Be The Match® provides patients and their families one-on-one support, education, and guidance before, during and after transplant.
Be The Match® is operated by the National Marrow Donor Program® (NMDP), a nonprofit organization that matches patients with donors, educates health care professionals and conducts research so more lives can be saved. To learn more about the cure, visit http://www.BeTheMatch.org or call 1 (800) MARROW-2.