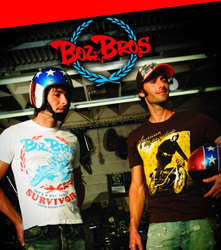 'It's been a couple of decades since we've been to Sturgis. When we were kids we came with our Dad, Dave Bostrom, to compete in the Sturgis Short track and ½ mile,' said Ben Bostrom. 'We are excited to come back and be a part of this historic event!'
Sturgis, South Dakota (PRWEB) June 26, 2014
The City of Sturgis is very excited to team up with Ben and Eric Bostrom, "The Boz Bros," to bring a new element to the Sturgis® Motorcycle Rally™. 2014 will be the inaugural year of a multi-year partnership with the legendary brothers hosting a ride and a night at the Sturgis Dragway during the annual Sturgis® Motorcycle Rally™. "Moving forward, we want to ensure young motorcyclists, the sport bike community, and two-wheel enthusiasts from all walks of life feel welcome at the Sturgis® Motorcycle Rally™ for many years to come," said Brenda Vasknetz, Sturgis Motorcycle Rally Director.
Eric Bostrom has earned 4 national titles in both dirt track racing and road racing totaling 46 AMA victories. Ben Bostrom is an X-Games gold medalist and former AMA Superbike, Supersport, and Supermoto national champion.
"The Boz Bros Night at the Sturgis Dragway" will take place on Tuesday, August 5th, and Ben and Eric will host "The Boz Bros Sturgis Ride" on Wednesday, August 6th. For more information, please visit http://www.sturgismotorcyclerally.com/info-guide/bozbros.php.
"It's been a couple of decades since we've been to Sturgis. When we were kids we came with our Dad, Dave Bostrom, to compete in the Sturgis Short track and ½ mile," said Ben Bostrom "We are excited to come back and be a part of this historic event!"
The Boz Bros won't be coming to Sturgis alone! They will be taking over a parking lot at the corner at Exit 32 off I-90 and hosting some of their friends throughout the 74TH Annual Sturgis® Motorcycle Rally™. They will be filling "The Corner at Exit 32" with motorcycle madness starting on Monday, August 4th, so be sure to stop by on the way to Main Street in downtown Sturgis. UNKNOWN Industries Riders, Buddy Suttle and Nick Leonetti from the famed "Harley Wheelies" YouTube series will be performing daily Freestyle Harley Riding Demos throughout the week. There will be music, food, vendors, merchandise, and all things moto with more to be announced. Expect to be see Brammo Electric Motorcycles on display as well as hip, young bike builders that will be showcasing their latest masterpieces.
On Tuesday, August 5th, starting at 7:30 p.m. and going into the night, Eric and Ben invite everyone down to the Sturgis Dragway to compete. "The Boz Bros Night at the Sturgis Dragway with Rickey Gadson" will be a one-of-a-kind race event. This event is open to all. Seriously, if you want to race it, Eric and Ben will line you up: sport bikes, pit bikes, golf carts, café racers, and of course, Harley's! You bring it and you get to race it down the 1/8 mile at the Sturgis Dragway! Boz Bros' friend and 10-time Pro Champion Drag Racer Rickey Gadson will be on hand as the Bos Bros event ambassador. "I'm excited to support my friends and introduce my drag race school, 'Launch Like A Pro,' to a wider demographic of riders," expressed Rickey Gadson who will be hosting a riding seminar at the event. "I think it will be a fun event and hope to introduce a lot of people to the sport of drag racing." Tickets to witness the races or to register to race can be purchased at the gate for only $25. Visit http://www.westernmotodrags.com or call Sandra Alberti at 208-850-5795.
"The Boz Bros Sturgis Ride" will take place Wednesday, August 6th. The ride starts at the City of Riders Motorcycle Expo, and will be a scenic 60-mile ride through the Black Hills with a memorable stop at the Deadwood Franklin Hotel where all registered riders will be provided with snacks, beverages, and a group photo. As riders continue on the ride, they will be hosted to a BBQ at the ride's last stop, the World Famous Knuckle Saloon. Participants will also receive a one-of-a-kind gift bag with a limited edition ride shirt. Space for the ride is extremely limited – sign up early and pay for the ride at http://www.sturgismotorcyclerally.com/info-guide/bozbros.php. The first 50 advance online ride registrations will be entered to win an autographed Eric Bostrom replica Icon helmet or a Ben Bostrom replica Shoei helmet. Participation in the ride will allow you to enjoy an incredible experience for a good cause with proceeds benefiting the Sturgis Youth Recreation programs.
Ben and Eric Bostrom will also be hosting The Boz Bros Stars Race at the 2nd Annual Sturgis Downtown Supermoto race September 12-14, 2014. This race event is free to the public and is a crowdpleaser with high speed racing through downtown Sturgis Main Street. http://www.sturgissupermoto.com
Follow Ben and Eric Bostrom online for updates.
Facebook: Eric Bostrom & Ben Bostrom
Twitter: @BozBros & @BenBostrom
Instagram: @BozBros & @BenBostrom
About The Boz Bros
Ben & Eric Bostrom's career began on the dirt in the early 90's. With several wins as dirt track racers, they progressively moved toward the asphalt, and dominated that field as well. Both are avid two-wheel enthusiasts and continue to influence the world of motorcycle racing. They graciously share their time with fans and fellow motorcycle supporters, and have consistently been fan favorites throughout their decorated careers. Eric is head development rider for Brammo electric motorcycles. Eric can often be found racing his mountain bike competitively, contributing articles for Cycle World magazine, hosting the 'Cafe Racer' television series, or most importantly spending time with his family. Ben is also an avid cyclist, and races mountain bikes professionally for Specialized Bicycles. Ben Bostrom, alongside his teammates, Micky Dymond, Dave Mirra, and Dave Zabriske, in June of 2014 won RAAM (Race Across America), which raises money for charitable causes. Ben's first love is his wife and daughter. Second love, all things with two wheels. Ben's hero Steve McQueen sums it up best, "When you're riding, you're living; everything else is just waiting."
About UNKNOWN Industries
UNKNOWN Industries is a new breed of Harley riders who push the limits of their motorcycles and themselves as they prove to the world what is possible on a Harley-Davidson® motorcycle. UNKNOWN Riders are the guys behind the famed YouTube series "Harley Wheelies" filled with wheelies, burnouts, drifting and more. To date, the "Harley Wheelies" video series views are at nearly 3 million. In April 2013, UNKNOWN released their first movie, "13th Level", an action packed, adrenaline filled video of Freestyle Stunt Harley riding featuring UNKNOWN founders Nick Leonetti and Buddy Suttle. On June 17, 2014, UNKNOWN released their second movie titled, "Into The UNKNOWN". Co-Founder and Rider Nick Leonetti is featured on the January 2014 cover of Hot Bike Magazine, and the riders have been featured in various other magazines, TV shows, videos series, and more. UNKNOWN has recently released a clothing line, and will soon launch custom v-twin motorcycle parts and accessories.
http://www.UNKNOWNindustries.com
Watch the most recent installment of their YouTube series "Harley Wheelies 13": http://www.youtube.com/unknownindustries
Facebook: http://www.facebook.com/UnknownRiders
Instagram: @unknownindustries http://instagram.com/unknownindustries
About Rickey Gadson
Gadson is a name that's associated with speed. Because Rickey isn't your average drag racer, this champ has been all over the world. He's been a guest of the Mandela's for his accomplishments in South Africa, as well as requested by director Reggie Bythewood as a consultant/stunt double with a cameo appearance in the star-filled motorcycle blockbuster movie "BIKER BOYZ". Rickey started racing at age 5. Born of two motorcycle-riding cparents, Rickey didn't plan to be a pro racer. He followed his undeniable urge to "go fast," and has now won more championships than any other African American athlete in motor sports.
http://www.rickeygadsondragracingschool.com
About Sturgis® Motorcycle Rally™
The Sturgis® Motorcycle Rally™ has attracted motorcycle enthusiasts from around the world for 74 years. Born from the love of racing, the annual rally has grown to include bike shows, world-class entertainment, industry showcases, a wide variety of motorcycle related shopping opportunities, and of course, miles and miles of incredible riding experiences. At the heart of the rally lies Legendary Sturgis Main Street. This stretch of downtown Sturgis is reserved for motorcycles only, and it's the place to be for the true Sturgis experience. Main Street offers great food, entertainment, and motorcycling fun for all ages.
About Sturgis, SD
Each year in August, the population of Sturgis grows from just over 6,600 to nearly a half a million as the City plays host to the best biker get together in the world. Located in the Black Hills of South Dakota, Sturgis offers motorcycle enthusiasts the best riding, socializing, and shopping opportunities found anywhere. Riders may choose from scenic rides through forested canyons, to day trips to National Parks like Mount Rushmore, Badlands and Devil's Tower. Riders can ride through the tunnels and spires carved from granite on the Needles Highway, or spend time re-living the past at the Sturgis Motorcycle Museum. The friendly atmosphere and scenic beauty of the Black Hills keeps visitors coming back year after year.
For more information about Boz Brothers Ride and Drags, please visit http://www.sturgismotorcyclerally.com/info-guide/bozbros.php.
For information about Sturgis® Motorcycle Rally™, please visit http://www.SturgisMotorcycleRally.com; Sturgis Supermoto http://www.sturgissupermoto.com or contact Tammy Bohn at (605) 720-0800.