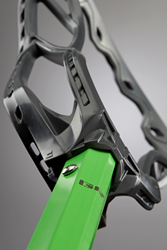 Baltimore, MD (PRWEB) September 21, 2015
Baltimore-based STX, LLC, a global sporting goods leader, today announced its new Duel men's lacrosse head and shaft, which are optimized to perform at the faceoff X.
The highly anticipated Duel, which will be available for sale nationwide beginning October 19, debuts STX's revolutionary patent pending throat plug. The throat plug allows for a shorter throat, which enables the player to get their hands closer to the ball during faceoffs. The head also features a faceoff-specific flex pattern and a third screw hole through the throat plug that provides additional torsional stability.
"The Duel is exactly what faceoff guys have been asking for. Its shorter, stable throat provides a solid advantage for faceoff specialists," said Chris Mattes, Florida Launch Midfielder and Co-Founder of the Faceoff Academy. "After testing it, I was blown away by its flexibility and grab on the ball."
The technology incorporated within the Duel handle is also designed to maximize performance during faceoffs. Its rigid Clamp Profile enables the player to gain maximum leverage on the draw.
"The Duel is the industry's first fully integrated faceoff system and is arguably the most advanced piece of equipment that we've launched," said Jim Benton, Director of Product Management at STX. "Utilizing next generation technologies, the Duel is engineered to dominate at the faceoff X and will change the game for faceoff specialists."
To learn more about STX lacrosse, please visit http://www.stx.com/mens.
About STX:
STX is a global sporting goods leader in the sports of lacrosse, field hockey and ice hockey. With its 1970 introduction of the first synthetic lacrosse head, STX ushered in the "modern era" of what is now the fastest growing team sport. Based in Baltimore, the home of lacrosse, STX has been universally recognized for innovation in product design and development. STX continues to strive for new performance standards in sporting goods equipment at the highest levels of competition. For more information, visit http://www.stx.com.