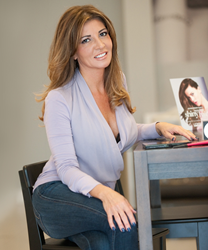 The greatest shopping is not something sought after but picked up along the way
Philadelphia, PA (PRWEB) January 08, 2015
With a love for fashion and beauty etched in her DNA, and a gift for bringing out the best in every woman, it's no surprise that Laini Bianculli is quickly building a beauty empire. In 2013, she officially opened her Washington Township Studio, Style with Laini, and in just over a year's time has expanded her reach across the river to a second location in Society Hill Philadelphia.
This expansion includes updated branding, a new look for http://www.stylewithlaini.com, and an extended foray into the wedding industry as the style and beauty expert to the newly formed Delaware Valley initiative, PopUp Weddings Original.
Laini is widely known to style devotees and beauty enthusiasts in the tri-state area for her all-encompassing strategy that seeks to uncover the glamour of everyday life. Clients come to her for personalized and detailed instruction on makeup essentials and applications, closet cleanses that "detox" the old, and personal shopping experiences that breathe new life into tired wardrobes. Her system delivers results that turn the ordinary into extraordinary and inspiring, and helps women feel more confident and beautiful in their own skin.
In part, Laini established her beauty authority through her use of custom-blended makeup applications, which led to her being featured as a skincare expert in WebMD The Magazine. With her proprietary formulas, she can match any skin tone and cover any dermatological imperfection. In fact, her foundation is recommended by dermatologists and surgeons for post-treatment application after surgery or laser treatment.
She has been an associate to award-winning surgical dermatologist, Dr. Karen Harkaway, helping patients heal their way to beautiful after cosmetic procedures.
Her custom-blended makeup is an individualized formula that can include SPF, moisturizer, oil-control mattifier, primer, and a firmer to provide any coverage level and suit any individual skincare need. Laini can even airbrush coverage for an extra glowy, luminous effect.
According to Laini, "Great skin is the canvas to a fabulous wardrobe and perfect makeup application. An enriching foundation should be considered the last step of a daily skincare regimen, not the first step of makeup application." All of her custom-blend cosmetics are oil free, paraben free and gluten free, and the formulas are enriched with botanicals that keep skin healthy and glowing.
Laini commonly uses her custom-blend makeup with bridal parties, and it was because of her acclaimed reputation for bridal styling and makeup that owners Stacy McGuigan and Leona Davis invited Laini to come aboard the PopUp Weddings Original team.
Laini's Society Hill studio is located at 520 South 3rd Street, Philadelphia, and her New Jersey studio is located in Sewell, Washington Township. To schedule an appointment, please contact her at info(at)stylewithlaini(dot)com.
Laini Bianculli is the CEO of Style with Laini and The Style Studio, with two locations in Washington Township, New Jersey, and Society Hill Philadelphia. Laini is a speaker and writes for several publications in the Greater Philadelphia region. She offers many different services, including personal styling, personal shopping, and makeup application. Visit http://www.stylewithlaini.com or contact her at info(at)stylewithlaini(dot)com for more information.