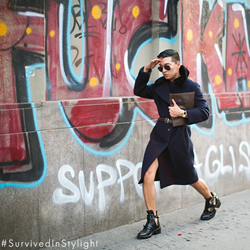 New York, NY (PRWEB) September 03, 2015
Stylight.com, the fastest-growing, international fashion discovery platform that combines content with commerce to provide 6,000,000+ users with a curated selection of the latest fashion trends and inspiration, will be providing luxury shuttle services during New York Fashion Week SS16 from September 10-13, 2015.
After five consecutive years, Lincoln Center is no longer home to NYFW. Now, with the show being separated into two venues across the city, show attendees will be forced to split their time between Soho and Midtown to see the latest spring/summer collections. Poised to alleviate transportation stress, Stylight will be on-site at Skylight Clarkson Square and Skylight Moynihan Station providing a complimentary luxury shuttle bus service to transport attendees to and from both locations.
Upon entering the luxury shuttles, passengers will have the opportunity to lounge on leather seats, jam out to a 90's-inspired soundtrack, recharge phone batteries, utilize free Wi-Fi, and receive Stylight 'Survival Kits' equipped with favorites from Rituals Cosmetics, Norma Kamali, AHAlife, LUNA, EBoost, Poketo, boscia, Rifle Paper Co., Alive & Radiant, Fromm Beauty and more.
In partnership with MANGO, Stylight will also unveil an exclusive social giveaway, where show attendees will have the opportunity to win a $1,000 gift card to mango.com inside the shuttle.
Additional Details:
-First come, first serve
-Luxury shuttle services on-site: 330 W 33rd Street and 550 Washington Street
-Only rides to and from these locations will be permitted
For more information on Stylight and/or event information, go to http://www.Stylight.com, and follow @Stylight and #SurvivedInStylight
Editor's note: images available upon request.
About Stylight
Founded in November 2008, Stylight is the brainchild of four friends, who have complementary backgrounds in economics, computer science, electrical engineering and business administration. These four visionaries have created one of the fastest-growing online platforms in the world.
Combining global inspiration with innovative online shopping technology, Stylight takes its users through a world of fashion to discover the latest trends, while shopping the hottest products and brands in one convenient place. With 350+ partner shops and over 6,000 brands under its arsenal, Stylight collaborates with major ecommerce players, like Net-A-Porter, Moda Operandi, Asos, Bergdorf Goodman, Zappos, and Neiman Marcus to name a few.
The company has evolved from a small, German start-up to a global fashion discovery platform. Currently, Stylight has over 6 million users globally, and is available in 14 countries, with offices in New York, London and Munich.