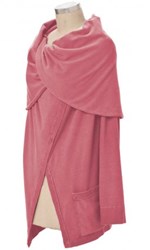 These fall and winter clothing additions are on-trend fashionable while maintaining an eye toward earth friendly.
Stanton, New Jersey (PRWEB) September 26, 2013
Stylish Organics, a leading online boutique, has added new fall and winter products to their ever-growing selection of green lifestyle items. New products have been added to expand their selection of organic clothing, sustainable home decor, and all natural skin care.
Keeping in step with the latest fashion trends, additions to the stylishorganics.com organic clothing line offer hot new styles and colors. Staples - such as the organic cotton tee for kids, men, and women - are offered with new designs and clay-dyed colors in both long and short sleeves. Sustainable fibers used in fashion shirts and pants for men include hemp, bamboo, and modal. Organic clothes for children capture the essence of up-to-date fall and winter wear in the softest organic cotton and bamboo. And chic styles for women offer runway type designs in conscious fashion fabrics. "These fall and winter clothing additions are on-trend fashionable while maintaining an eye toward earth friendly", said Gerri Curran a customer of the on-line boutique. "I love shopping Stylish Organics because I can maintain eco fashion without forfeiting style."
Affected by seasonal change, the selection of eco home decor parchment bowls offered by the e-commerce store has been updated to reflect fall and winter availability. The parchment items are made from organic fruits and vegetables transformed into parchment sheets that are hand shaped to form bowls; shapes for necklaces and earrings; and bracelets. The choice of fruits and vegetables used is dependent upon the growing season and the fall/winter months provide some beautiful selections with outstanding color. Great for holiday gifts the boutique is encouraging early orders to assure receipt in time for the holidays.
Colder weather, shorter sunlight hours, indoor heating, and holiday party makeup can run havoc on skin. The expanded line of natural skin care products offered by Stylish Organics provides cleansers and moisturizers to nourish and protect skin. Made with organic all natural ingredients and essential oils, many of the products offered are Vegan, gluten-free, and cruelty-free. Infant skin care, men's shaving creams, family hygiene, and women's cosmetics are among the chemical free products offered.
Along with new products stylishorganics.com is continually adding to their selections. Visit the company website to browse their full selection of environmentally friendly products.
About Stylish Organics
Stylish Organics is an e-commerce boutique offering a collection of products selected for earth friendly properties from environmentally responsible manufacturers. The company's easy to shop, one-stop-shopping, venue enables those committed to green living to combine savvy styling with earth friendly thinking. Many of their products are made in the USA or are ethically sourced from organizations that globally support women. The boutique is based in Stanton, New Jersey and is available to consumers on-line with shipping provided to locations in the United States and Canada. They can be reached via their website, email - contactus(at)stylishorganics(dot)com or by calling 800.581.6417.