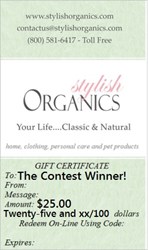 Consumers should realize organic agriculture not only refers to food, but also refers to fibers for clothing and ingredients for beauty products.
Stanton, New Jersey (PRWEB) September 05, 2013
Since its launch in 1992 by the Organic Trade Association, September has been recognized as "Organic Harvest Month". Initiated to focus attention on organic agriculture many retailers, organizations, and farm groups throughout North America plan special celebrations as a way to teach consumers about organic practices and to convey the benefits of using organic products. Consumers are encouraged to use certified organic agricultural products including food, clothing, and beauty items.
As an on-line retailer of organic clothing, home décor, beauty & skin care products, and pet treats, stylishorganics.com is taking part in the September celebration in support of organic agriculture by running a contest where one lucky winner receives a $25 gift certificate to use on their site. "By encouraging consumers to write a short sentence about their favorite organic product and then sharing the information, we are hoping to increase awareness of not only the benefits of organic products, but the wide range of products available", stated Lynn Lavanga, owner of the on-line boutique. Lavanga continued, "Consumers should realize organic agriculture not only refers to food, but also refers to fibers for clothing and ingredients for beauty products." The certified organic label stands for the commitment to grow and process products that are in balance with nature. Organic methods have a low impact on the environment avoiding use of chemical fertilizers, pesticides, and manufacturing methods that destroy or damage natural resources.
The Stylish Organics' contest began on 9/5 and will run until 9/30. To enter contestants must provide a log in and email address and then provide a short statement on their favorite organic product including reasons why it is their favorite. To increase points for winning, contestants can like the stylishorganics.com Facebook page, follow them on Twitter, and tweet the news daily.
Here are some other ways you can celebrate Organic Harvest Month;
1. Shop a local farmers' market for organic produce.
2. Make a meal using all organic products including the wine!
3. Indulge in some relaxation with organic bath and skin products.
4. Wear organic cotton clothing and feel the difference against your skin.
5. Pamper your pet with organic pet treats.
6. Cuddle up with organic cotton linens or a warm organic wool blanket.
7. Get ready for a party with organic makeup.
8. Plant and nourish an organic garden.
9. Share an organic item with a friend or neighbor.
10. Support an organic organization.
About Stylish Organics
Stylish Organics is an e-commerce boutique offering a collection of products selected for earth friendly properties from environmentally responsible manufacturers. The company's easy to shop; one-stop-shopping, venue enables those committed to green living to combine savvy styling with earth friendly thinking. Many of their products are made in the USA or are ethically sourced from organizations that globally support women. The boutique is based in Stanton, New Jersey and is available to consumers on-line with shipping provided to locations in the United States and Canada. They can be reached via their website, email - contactus(at)stylishorganics(dot)com or by calling 800.581.6417.