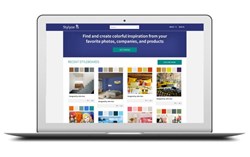 Stylyze.com empowers users to find and create colorful inspiration from their favorite photos, companies, and products.
Seattle, WA (PRWEB) September 11, 2013
There is a powerful disconnect between the world of retail shopping in-store and online. When consumers shop in-store they are consciously and subconsciously filtering items for color and style, then brand and price. Once they have narrowed their selections down, they seek feedback from family and friends. They can't shop online that way. When consumers type "red sofa" into Google, they face the impossible task of weeding through 28,700,000 impersonal results, something today's busy consumer does not have time for.
Stylyze.com has changed all of that. Stylyze uses the language of color to empower consumers to search online like they do in a store - visually. "Stylyze is about product discovery through the lens of color," says Stylyze CEO Kristen Miller. "Find the red you love and we will show you sofas in that exact red. Think of Stylyze as your own personal shopper that will help you find the perfect mix of colors and products to bring your inspiration to life."
When shopping for home décor products, everyone has a different starting point. Some consumers start with an image they found on Pinterest, while others try to coordinate with their existing space. Some have no idea where to start. "The beautiful thing about Stylyze is our ability to provide a personal experience to every user, regardless of their starting point," says Miller. Users can "Stylyze" their favorite photos and products to get coordinating color and product recommendations, take a quiz to discover their color preferences, and create and share Styleboards (virtual design boards). They can also view public Styleboards for inspiration and design ideas.
"This is a massive project that is rolling out in phases," says Miller. This first phase includes both an online and mobile platform and focuses on providing a color-focused search and design experience. "We are thrilled to launch with over 45 industry-leading companies such as Crate&Barrel, CB2, Anthropologie, Horchow, Kohler, Shaw Floors, Daltile, Kravet, and General Paint," says Miller. The next phase involves more broadly integrating products through affiliate and subscription programs, providing users with the best selection from leading mass market and boutique retailers.
"We are providing an experience that is fun, engaging, and relevant for both end users and companies we partner with," says Miller. "Matching people with the perfect collection of products to bring their inspiration to life is a win for everyone."
About Stylyze LLC
Stylyze LLC is a creative, color-loving Seattle based technology company dedicated to empowering people to find and create colorful inspiration from their favorite photos, companies, and products so that they can create beautiful lives for themselves. Experience Stylyze via Stylyze.com or on the Stylyze mobile app available on the App Store.
Source: Stylyze LLC