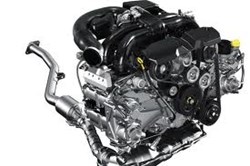 All prices that are packaged with each engine sale are now retrieved from the quotation system that we've installed online
San Jose, CA (PRWEB) September 02, 2013
Replacement engines for imported vehicles can be a struggle to locate when these are not purchased through an authorized dealership. The non-discounted pricing found through some authorized sellers brings complications for imported car owners. The GotEngines.com company is now announcing a Subaru engines sale for import car owners to benefit online at http://www.gotengines.com/subaru/subaru-engines.html.
The Subaru series of vehicles has retained a presence in the United States auto market based on the demand for its four-wheel drive vehicles.
Each vehicle series produced by this automaker after the year 1997 features all-wheel drive to compete with SUV manufacturers. The engines used include the Boxer edition and other performance styles that are now included in the price reduction online.
"Subaru vehicles are known just as much for off-road use as on-road use in the North American market," said a representative for the Got Engines company.
The types of vehicles that are produced by the Subaru company use consistent engine variants that are well received by consumers.
The used Subaru motors that are currently under new price structures at the GotEngines.com website are part of a larger imported engines expansion that was started earlier in the year. Additional brands of foreign motors like Toyota and Honda have been included for direct sale under similar pricing terms for buyers.
"All prices that are packaged with each engine sale are now retrieved from the quotation system that we've installed online," the representative added.
The classic method of price discovery that consumers used to receive information from the Got Engines company has changed. A system that is simple for any customer to use was installed in 2012 and updated with improvements this year.
Any motor vehicle engine that is distributed by this company is now quoted in price with the touch of a button using the search system currently offered online. The toll-free number at 1-866-320-1065 remains in place for customers to use offline.
About GotEngines.com
The GotEngines.com company provides used engines for sticker prices that are lower than traditional retail prices that are marketed by engine companies online. This company receives engines from distribution businesses that currently source some of the lowest mileage units available in the U.S. The GotEngines.com company specialists are trained to handle all incoming telephone calls and requests online for information submitted by engine buyers in all parts of the country. The quotation system that is used by this company has been programmed to distribute all pricing online as well as warranty information and shipment data to the public.