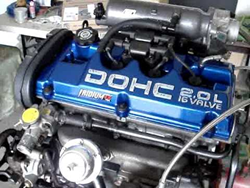 The 206 horsepower EZ30 motors that we are now listed on our website are priced with consumers in mind to keep block swaps less expensive
Sacramento, CA (PRWEB) October 31, 2015
The Subaru brand of automobiles remains popular on the tuner market partly due to auto restoration companies that acquire older vehicles to rebuild for sale to consumers. The JDM Pros company is now providing opportunities to consumers who own import vehicles to buy Subaru EZ30 used engines from its newly acquired blocks at http://jdmpros.com/ez30-engine-for-sale.
The dual overhead cam 3.0-liter editions that are available have been taken out of working Legacy, Outback, Impreza and other cars. The units have been checked by a staff of automotive specialists to ensure that all hoses, brackets, wiring and other components are in sellable condition.
"The 206 horsepower EZ30 motors that we are now listed on our website are priced with consumers in mind to keep block swaps less expensive," said a seller from the JDM Pros company.
The used Subaru motors that are in stock are expected to be sold to owners of vehicles, mechanics and tuners of vehicles. Since components warranties can be hard to acquire with a preowned block, the JDM Pros company is attaching two-year OEM parts warranties for every consumer who places orders on the company website or by the phone system available.
"Warranties for Subaru components for sale on our website will be enforced through each supplier that we have in our distribution network," the seller included.
The customer ordering number at (989) 891-9485 is available seven days a week for customers of the JDM Pros company. Price quotations are available immediately for users of the company website. All displayed inventory includes accurate stock information and mileage when known for consumers to review.
About JDMPros.com
The JDMPros.com company has a growing products inventory of Japanese motor blocks that consumers can review or purchase on its website daily. The company acquires second hand products that are retailed nationally. The JDMPros.com company has updated its blocks to feature 4-cylinder, 6-cylinder and 8-cylinder models from top automotive suppliers globally.