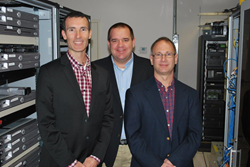 I can hardly wait to return to San Juan to bask in the warmth and beauty of one of the world's most magnificent and breathtaking places
Condado, San Juan (PRWEB) January 25, 2016
SubscriberWise, the nation's largest issuing consumer reporting agency for the communication's industry and the leading protector of children victimized by identity theft nationwide, announced today that its founder and president is traveling to San Juan for the 2016 Caribbean Cable & Telecommunications Association annual meeting. The meeting will be held in nature's tropical paradise, San Juan, Puerto Rico.
"I can hardly wait to return to San Juan to bask in the warmth and beauty of one of the world's most magnificent and breathtaking places," commented David Howe president of SubscriberWise. "I was fortunate to travel to San Juan recently and I can recall few things more enjoyable than the conversation, Spanish history and culture, fabulous island cuisine, and, in particular, the warm and welcoming accommodations so graciously offered from my sisters and brothers in Puerto Rico.
"This will be our first Caribbean show and I'm really excited with the opportunity to participate. SubscriberWise's CFO and Project Manager are also attending. Several of our technology partners will be there and it will be a perfect time to visit and collaborate. We certainly anticipate learning new and cutting-edge information from our colleagues and leading professionals engaged in the industry.
"I have no doubt it will be a great show and a great experience," Howe concluded.
About SubscriberWise and David E. Howe
SubscriberWise® launched as the first U.S. issuing consumer reporting agency exclusively for the cable industry in 2006. In 2009, SubscriberWise and TransUnion announced a joint marketing agreement for the benefit of America's independent cable operators. Today SubscriberWise is a risk management preferred-solutions provider for the National Cable Television Cooperative.
SubscriberWise contributions to the communications industry are quantified in the billions of dollars annually.
David Howe is the highest FICO achiever in worldwide banking and financial history. Howe is the only known individual – living or deceased – to have obtained and documented simultaneous perfect FICO 850 Scores across every national credit bureau. In 2014, Howe achieved simultaneous perfect Vantage Scores at Equifax, Experian, and TransUnion.
Over the past decade and counting, Howe has been consulted by the highest levels of executive management from the leading communications operators in the country including Sprint, Time Warner, Mediacom, Metrocast, Atlantic Broadband, Armstrong, Antietam, Comporium, Grande, Cincinnati Bell, BendBroadband, NPG, NewWave, GTA Teleguam, Cable ONE, Shentel, TDS, and many others. Howe's unbridled passion and demonstrated expertise with credit and risk management can be found everywhere in the industry today.
Howe has obtained FICO Professional Certification and is also the first and only citizen of the world to describe and report the details of the perfect FICO and Vantage scores to U.S. reporters.
SubscriberWise is a U.S.A. federally registered trademark of the SubscriberWise Limited Liability Co.
Contacts
SubscriberWise
David Howe, 330-880-4848 x137