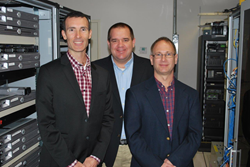 Credit is not a game but people who don't play lose - David Howe, SubscriberWise founder and the world's highest FICO acheiver
Massillon, OH (PRWEB) April 26, 2015
SubscriberWise®, a leading provider of analytics driven subscriber decision management technology and the largest issuing consumer reporting agency for the communications industry, announced today that the company president is offering new advice, credit suggestions, and decades' insight to the CFPB and the nation's credit consuming population.
"Conspiracy theorists and others love to perpetuate the notion that credit scores are mysterious, secretive, and impossible to understand or control," argued David Howe, FICO professional, child identity theft expert, and SubscriberWise CEO. "They're none of the above. Rather, they're complex. Extremely complex, in fact. And they're based, in large part, on highly refined mathematical models that rely on millions of consumer credit files for empirically derived, scientific outcomes: outcomes that are not only regulated, but that are retrospectively correlated to payment performance metrics that often span multiple decades.
"Undoubtedly, transparency and access to accurate information and education concerning credit scoring did not exist in the past. The lack of information certainly contributed to the hysteria, fear, and ignorance that grew out of the emerging technology," continued Howe. "Sadly, much of the same continues to surround scoring models today. However, unchanged are the fundamental behaviors (i.e. paying bills on time and low credit card utilization) that generated high scores in the past. These same behaviors, they remain true and predictive today just as they did in the past.
"Fortunately inadequate information is no longer a reality or concern for consumers. Collectively we should bestow individual consumers, watchdog groups, regulators, and others our appreciation and gratitude for the vast and open information that is widely available today.
"Everything a consumer needs to obtain super-prime credit ratings – across every credit scoring model on the market – exists on a myriad of commercial sites; this same information can be found here, http://www.consumerfinance.gov/askcfpb/318/how-do-i-get-and-keep-a-good-credit-score.html, on the taxpayer-owned Consumer Financial Protection Bureau's website," said Howe.
In addition to the well known guidelines - which together are sufficient for achieving and maintaining favorable credit – there are a number of other little-known suggestions for consumers who may have unexplained or significant scoring variations among different models and/or repositories. Following are many of the common-sense and well known guidelines for achieving and maintaining excellent credit:

Pay as agreed. Although life events, medical and economic hardships, and myriads of financial circumstances make this impossible for millions of consumers, paying bills on time is the single most important factor in the calculation of a credit score
Don't get close to credit limits, particularly if you're going to apply for new credit and a high score is essential to obtain the most favorable terms/approval. Fact: Howe generated simultaneous perfect FICO and Vantage scores across each repository with credit utilization below 5 percent of total available credit, among many other maximum scorecard indicators. It is proof that credit scores can be mastered without knowledge of advanced mathematics and without FICO's proprietary credit scoring formula.
Apply for credit as needed. Fact: Howe's most recent revolving credit card account was opened nearly one decade ago.
In addition to the above (particularly true for consumers who have scores that vary significantly), Howe provides these other important suggestions:
Compare credit reports. Determine, for example, if a tradeline (i.e. a ten year old revolving bankcard that's been paid perfectly and includes a substantial line of credit) is reported to each of the national credit repositories: Equifax, Experian, and TransUnion. A missing tradeline that is not reported can have a significant negative impact on the calculation of a credit score. Fact: A colleague of Howe's learned that his credit union failed to report his long and perfect-paid revolving credit card account to TransUnion. The net result was a significant loss of points because of the missing information. Once the account was finally reported, the score increased to a super-prime rating. Fact: Consistent credit data yields consistent credit scores: https://www.youtube.com/watch?v=4sny-172p9Q
Pay close attention to score reason factors contained on risk based pricing notices and credit score disclosure notices in particular. For example, a reason factor that indicates "too many accounts with balances" can mean 1 (one) too many. Fact: 1 (one) revolving balance with a small amount owed relative to the available credit is the best possible scenario for consumers with FICO scores above 760; this is also probable among every FICO scorecard. Fact: Reason factors are vague and do not always translate into the everyday human lexicon. Fact: A reason factor of "no recent bankcard or revolving balances reported" means that no balance is reported at the moment the score is generated. For example, it may not matter if a balance was reported as recent as yesterday…if it's not reported when the score is generated today.
Charge a balance on one revolving credit card before applying for a mortgage (particularly true for consumers who have an American Express or other travel and entertainment charge card). Fact: FICO scores based on models used in mortgage underwriting are typically – perhaps always – not recent FICO models (i.e. FICO 8 or FICO 9). The older models treat Amex and T&E charge cards differently from the more recent models. Fact: A credit report that is scored and that also has no reported revolving balance with a favorable utilization ratio (< 6 percent is recommended) will result in a loss of points, even if the Amex or T&E account is reported with a balance. Fact: No bankcard balance reported will result in a loss of points for many – if not all – consumers. Fact: A credit card that contains an account number that starts with a 3 may be excluded from mortgage based FICO models regardless if the account is a credit card or a charge card (i.e. Bank of America branded Amex revolving credit cards).
Know your statement closing date and try to determine when the creditor reports the information to the repositories (generally once each month). Fact: This is tricky and it's not always possible to know. It's also not always consistent in terms of the date information is reported.
About SubscriberWise
SubscriberWise® launched as the first U.S. issuing consumer reporting agency exclusively for the cable industry in 2006. In 2009, SubscriberWise and TransUnion announced a joint marketing agreement for the benefit of America's independent cable operators. Today SubscriberWise is a risk management preferred-solutions provider for the National Cable Television Cooperative.
SubscriberWise contributions to the communications industry are today quantified in the tens of millions of dollars annually.
David Howe is founder and president of SubscriberWise. He is also a consultant and credit manager for MCTV. At MCTV, Howe manages the bad debt and equipment losses on annual sales in excess of $60 million. During his 18-year career at MCTV, Howe has reviewed more than 50,000 credit submissions. His interest in credit began in 1986 while a 17-year-old student in high school.
Howe is the only known individual – living or deceased – to have obtained simultaneous perfect FICO 850 scores across every national credit bureau. Howe has also obtained simultaneous perfect Vantage scores at Equifax, Experian, and TransUnion.
Howe has obtained FICO Professional Certification and is also the first and only citizen of the world to describe and report the details of the perfect FICO and Vantage scores to U.S. reporters.
Howe produced and published two videos on the subject of perfect credit: FICO 850 Credit Report Facts and FICO Scores: The Facts. The first general-purpose FICO scores were debuted a quarter century ago.
SubscriberWise is a U.S.A. federally registered trademark of the SubscriberWise Limited Liability Co.
Contact
SubscriberWise, 888-596-1119