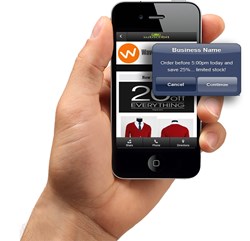 Push notifications and mobile messaging when done right, have tremendous potential for boosting customer engagement.
Saskatoon, Canada (PRWEB) August 26, 2013
Subscribit is excited to announce the launch of a new turn-key web and shared mobile-app platform that enables any business to create and send real-time mobile push notification offers, mobile coupons and alerts to their customers. Small businesses can now compete with larger organizations and better engage and reward loyal customers without having to invest in the technology infrastructure it traditionally takes to launch effective mobile applications.
In addition to empowering businesses with point and click, web-based tools to create, manage and send mobile push notifications to subscribers, Subscribit simplifies and reduces the time investment out of building a subscriber base itself. A business can simply add a single line of code to their existing website and a one-time "Subscribe to us via the Subscribit App" prompt is presented to all current website traffic that visit from mobile devices; when the prompt is clicked, the Subscribit App installs (if not already present) and the customer is automatically subscribed to that business.
For customers, what really differentiates the Subscribit App is they subscribe to businesses anonymously. Unlike text messaging or emails, the privacy of information and the security of Subscribit users' personal identity is a high priority. As a result, a user can download the Subscribit app and connect with businesses without ever having to provide any personal information such as their email address, contact information or disclosing their mobile phone number.
"It's completely opt-in for the consumer, we're putting them back in control of their information and enabling customers to connect with businesses, restaurants, retail stores, attractions, and brands they love without hesitation. We'll be introducing category and geo-location browsing in our next app update to really expand the user experience and drive connections," stated Frankie Gray, VP of Business Development.
The Subscribit app is now available for free currently for iOS and Android download in both the Apple App Store and Google Play Store.
Businesses can create an always free account at http://www.subscribit.com, which includes all the core tools, unlimited subscribers and the ability to send up to 2 push notifications per month. As the business builds their audience they can upgrade to unlimited push notifications for just $20 per month and increase their engagement level. Subscribit also offers exclusive group features and packages, making it is easy for any Association, Tourism, Chamber, Non-Profit or Tradeshow Management Company to easily promote and drive attendance to events and meetings, and connections with members, exhibitors and sponsors.
Once a business account is created, the Subscribit dashboard automatically creates a unique QR Code and URL that when clicked or scanned auto-subscribes that consumer to receive push notification messaging and offers from that business. By posting the link and QR on existing social media accounts or by sending an email to current or prospective contact/customer lists, businesses can quickly build subscribers. To further support business, ready-made, customizable point-of-sales print templates are available to make it easy to create branded in-store/at-location signage to customers.
Push notifications and mobile messaging when done right, have tremendous potential for boosting customer engagement. The key is to provide relevant content and information that people actually want to receive in a timely manner.
Subscribit Enterprises is a mobile business start-up, with its corporate office and development team based in Saskatoon, Canada and its Sales & Marketing offices headquartered in Chicago, Illinois. Founded in 2012 by Jay Maharaj and Tyson Lemire, Subscribit is comprised of a team of mobile technology and integrated marketing professionals working together to leverage new mobile platform technologies and innovative marketing strategies to provide a deeper level of B2C interactions and an overall stronger customer engagement.