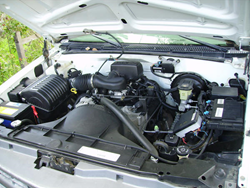 The small-block motors that we are now making available to the public can be placed into the GMC Yukon and subsequent Chevy SUVs
Richmond, VA (PRWEB) July 10, 2015
The full-size SUV vehicles in the Chevrolet division of the General Motors company will now be supported through the used engines inventory now in stock at the Preowned Engines company. Suburban 5.3L engines in used condition can now be purchased through the web ordering center now setup at http://preownedengines.com/suburban-5-3-liter-engine-used.
The Vortec blocks that are now available to order include two of the most common editions for Suburban vehicles in the United States. The L59 and LM7 blocks are now positioned for sale in the V8 inventory to assist owners of used vehicles or automobile mechanics with a viable way to purchase 5.3-liter builds.
"The small-block motors that we are now making available to the public can be placed into the GMC Yukon and subsequent Chevy SUVs," one Preowned Engines sales rep said.
The used Chevy Vortec 5.3L replacement builds that are in stock this month will ship immediately with a reworked warranty policy. Consumers making a purchase on the web or offline will not have to pay additional money to receive the added coverage for installed OEM part on each block.
"We are now working with much better suppliers in order to find the top condition GM manufactured motors for sale in our inventory," added the sales rep.
The Preowned Engines company is now in the planning process of adding more GM specific RPO codes to its warehouse inventory in 2015. Both large and compact size vehicles are expected to be supported when the new inventory is acquired for public sale later this year.
About PreownedEngines.com
The PreownedEngines.com company is one web source to find second hand condition car, truck, SUV and minivan motors for discount prices. The company now uses more local distribution companies to fulfill consumer orders. The PreownedEngines.com company now provides quotations through its web system to deliver accurate prices to people interested in placing orders.