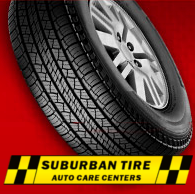 Suburban Tire Auto Care Centers, Chicagoland's tire and auto repair professionals, is offering a free alignment check for first-time customers.
Glendale Heights, IL (PRWEB) August 29, 2013
Suburban Tire Auto Care Centers, Chicagoland's tire and auto repair professionals, is offering a complimentary alignment check for first-time customers.
The family owned company sells discount auto tires at three convenient suburban locations: Glendale Heights, Hanover Park and St. Charles. Name-brand tires from companies such as Michelin, Bridgestone, Firestone, BF Goodrich, Goodyear, Firelli, and Yokohama are available at these tire service centers.
Unlike many discount tire dealerships, Suburban Tire focuses on the customer…providing creature comforts for today's busy drivers. Free Wi-Fi service is accessible for those waiting for service in clean, bright and well-maintained facilities. Customers also can contact a service manager for loaner vehicles if they do not have time to wait for work to be completed. Plus, a vehicle safety inspection and 30-day/500-mile satisfaction guarantee is included with all tire sales.
As an added value for new customers, the free alignment check can pinpoint if a vehicle's alignment is proportioned correctly. Proper alignment not only maximizes tire life, it also provides easier steering, improved gas mileage, a smoother ride, and more secure driving.
In addition to discount auto tires, tire sales and alignments, Suburban Tire offers all tire-related services including wheel balancing, tire rotation, and flat tire repair. These tire service centers also deliver computerized engine diagnostic testing, brake services, and oil changes.
Founded in 1976, Suburban Tire has been serving the Chicago suburbs for more than 30 years. The tire service centers' philosophy has been—and continues to be—quality products, fair pricing and honest dealings, whether someone is looking for discount auto tires or vehicle services.
Suburban Tire has three locations in Chicago's western suburbs: Glendale Heights at 755 North Avenue, (630) 790-1600; Hanover Park at 2064 Lake Street (630) 830-3997; and St. Charles at 1900 Lincoln Highway (630) 584-1866.
Service hours are Monday through Friday 7 a.m. to 7 p.m. and Saturday 7 a.m. to 4 p.m.
For a free discount auto tires quote or to schedule a service appointment, visit online at http://www.SuburbanTire.com.