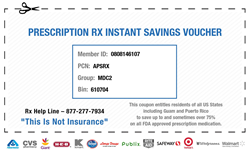 New York, NY (PRWEB) October 29, 2014
Opioid addiction is characterized as an inability to stop using opiates like oxycodone, heroin, morphine, or hydrocodone. This type of addiction is devastating and deadly. The CDC reports that each day, over 100 people in the U.S. die from a prescription drug overdose—either when taking more than the recommended dosage, or when people take pills that were not prescribed for them. (http://www.cdc.gov/homeandrecreationalsafety/rxbrief/) Addiction is a complex problem that can be very expensive to treat properly. That's one of the reasons Medication Discount Card, LLC, offers savings of up to 75% on drugs like Naltrexone, Clonidine, and Buprenorphine—drugs that help patients end opioid addiction.
While it's true that 12-step programs can be helpful to many people suffering with addiction, opiates are particularly difficult to quit. Many patients begin taking these drugs for legitimate pain from an injury or accident. Over time, though, an increasing physical tolerance may lead to higher dosages, and then physical cravings may develop. Using cessation-focused drugs like Buprenorphine and Clonidine in conjunction with a 12-step program has been shown to be more successful than either drugs or 12-step programs alone. MedicationDiscountCard.com can make Buprenorphine and other opiate-cessation drugs affordable for families dealing with the heartbreak of addiction. Savings of 75% or more can mean the difference between fully treating addiction and so-called "white knuckle sobriety."
Medication discount cards are available at no cost from the company's website. Patients can print the card on a home printer or request a card to be mailed to their home at no charge. The card can be used without limit at any of thousands of participating chain and local pharmacies, including Cub, Walgreens, K-mart, Winn Dixie, Publix, Rite-Aid, CVS, and many more. Because the card is free, no credit card information is needed. There is no medical exam required to obtain these medication discount cards. Medication Discount Card, LLC, has helped thousands of families to obtain affordable prescription medication, and is standing by to help thousands more.