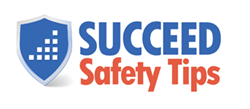 lake oswego, or (PRWEB) October 19, 2015
Succeed Management Solutions, LLC has started a new risk management blog, Succeed Safety Tips. The blog was created to provide high-quality risk management and safety content and to help ensure safety in the workplace. Example content includes: training shorts and toolbox talks created by Succeed's safety experts, OSHA announcements (such as changes in the OSHA code), and other newsworthy risk management events and activities. Collectively, the posts will discuss a wide variety of safety concepts and strategies that can be easily integrated to improve the safety culture within any organization, in any industry.
The objective of the blog is to build awareness of workplace safety best practices. Recent blog topics include: how to identify fall hazards in the workplace, how to apply the Safety Pyramid concept, and recognition of September National Preparedness Month. Each article reflects current safety standards and best practices.
Succinct and easily-digestible posts make the Succeed Safety Tips site an outlet to discuss useful safety-related news and information. For example, the toolbox talks content can be used by safety committees and during group meetings.
The Succeed Safety Tips blog is available at http://succeedsafetytips.com/.
About Succeed Management Solutions, LLC
Succeed is the recognized leader in providing web-based Enterprise Risk Management solutions. Thousands of organizations use the Succeed Risk Management Center as a holistic solution to improve their risk management programs, implement web-accessible employee safety training programs, increase efficiencies, and lower the frequency and severity of claims and associated costs.
The Succeed Risk Management Center contains a suite of software applications that help manage claims and OSHA reporting (Incident Track®), behavior-based safety programs (BBS Track®), hazard communication and Safety Data Sheets (SDS Track®), Return to Work programs (Job Description Track®), employee training (Training Track™), and third party insurance compliance (COI Track®). Succeed also offers support services, such as managing Certificates of Insurance, Safety Data Sheets, and creating custom training courses.