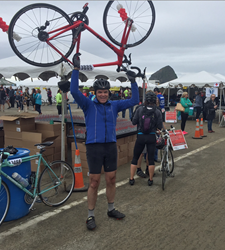 Portland, Oregon (PRWEB) May 21, 2015
Succeed Management Solutions is pleased to announce that it successfully completed in the 25th anniversary Reach the Beach presented by AAA and sponsored by the American Lung Association, in Oregon. The Succeed team raised $975 to help the America Lung Association save lives by fighting for healthy lungs and healthy air.
The five-person Succeed team successfully completed the 100-mile Portland to Pacific City, OR route enthusiastically and safely. The team was led by Curt Shaw, founder and CEO of Succeed Management Solutions. Succeed is a Lake Oswego-based Environmental Health and Safety software firm whose company motto, "The Passion To Prevent," reflects a complementary philosophy to the American Lung Association's mission to prevent lung disease through education, advocacy and research.
The 2015 Reach the Beach event was the most successful ever, with over $585,000 raised from more than 100 different teams. As Curt Shaw said at the finish line "everyone here shares a common goal of celebrating life through supporting the great work of the American Lung Association while loving the scenery of Oregon, the energy of all the volunteers, the generosity of the donors, and the comradery of this great team ride."
About Succeed Management Solutions
Succeed is the recognized leader in providing web-based Enterprise Risk Management solutions. Thousands of organizations use the Succeed Risk Management Center as a holistic solution to improve their risk management programs, implement web-accessible employee safety training programs, improve regulatory compliance, increase efficiencies, and lower the frequency and severity of claims and associated costs.
The Succeed Risk Management Center contains a suite of software applications that help manage claims and OSHA reporting (Incident Track™), behavior-based safety programs (BBS Track™), hazard communication and Safety Data Sheets (SDS Track™), Return to Work programs (Job Description Track™), employee training (Training Track™), and third party insurance compliance (COI Track®). Succeed also offers other support services, such as managing Safety Data Sheets and creating custom training courses.