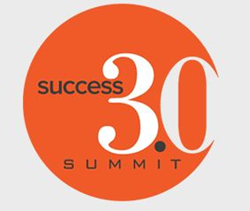 This is a must-attend event for any professional who is looking to get more than just an income from their career.
Las Vegas, NV (PRWEB) September 30, 2014
Success 3.0 Summit, an upcoming four-day seminar that will include presentations and collaboration with some of today's most successful professionals from around the globe, teaching attendees the new rules for gaining success in today's society has caught the attention of Shane Michaels, prompting an investigative review.
"This seminar was designed specifically to help people learn what it means to achieve success in today's society," reports Michaels. "Success 3.0 presents a rare once-in-a-lifetime opportunity for attendees to learn firsthand from some of the world's most successful professionals about how they too can achieve success on a deeper level than just wealth and notoriety."
The definition of success in our society today has transformed immensely from generations past. In the beginning of human existence, success 1.0 was largely based on the ability to survive. In the industrial age, success 2.0 became based solely on wealth and the amount of effort expended to get there. But success 3.0, which is most important in today's culture, is based on much more than wealth—it also includes elements of passion, hobbies, lifting others, and making a difference. This is precisely what the Success 3.0 Summit is based on – teaching other professional how they can achieve the type of success they want with working less and living a higher quality of life. Success 3.0 Summit will be held Oct. 30, 2014 – Nov. 2, 2014 in Boulder, Colorado at the St. Julian Hotel. It will feature TED-style talks, panel discussions, group dialogues, live performances, Q&A Sessions, book signings, and more with some of the world's most successful people. Speakers of this session include names such as John Mackey, Co-Founder and Co-CEO of Whole Foods Market, Tony Hsieh, CEO of Zappos.com, singer/songwriter Alanis Morissette, and dozens of others. Success 3.0 Summit is a limited access event with only 350 attendees. Full-access tickets are currently available for $4,995, with additional add-ons such as a special VIP dinner, videos of the vent, script transcriptions, and more also available.
"This seminar is the answer for any professional who feels overworked, underpaid, and just frustrated with the fact that no matter how much they try, they can't achieve the lifestyle that they truly want to live—a professional career that also encompasses their passions and gives them a lasting meaning in life," said Michaels. "No where else will the find the guidance, inspiration, and knowledge all in one room that will help guide them to professional success than with this summit."
"Success 3.0 Summit has a powerhouse lineup of speakers and presenters, and it's probably one of the only times that attendees will be able to hear from some of the biggest names in the professional world all at once. It's truly an event not to be missed."
Those wishing to purchase tickets to the Success 3.0 Summit or for more information, click here.
To access a comprehensive Success 3.0 Summit review, visit this site.