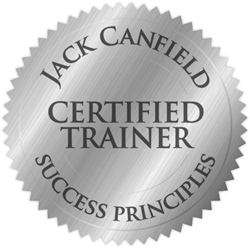 NEW BERN, N.C. (PRWEB) October 07, 2016
Speaker and award-winning author Garret Biss is pleased to announce his recent completion of Jack Canfield's Train the Trainer program. Biss is now a Jack Canfield Certified Trainer in the Success Principles that Canfield—America's No. 1 success coach and co-creator of the Chicken Soup for the Soul Series—uses to create life-altering personal and professional transformations in a diversity of people.
Biss says the comprehensive training helped invigorate his drive toward the pursuit of his training and coaching career. "Through this training I have developed greater confidence in my ability to go forth and help others—confidence that I have the ideas, concepts and tools necessary to make a difference in other people's lives, even while continuing to improve my own," he says.
As the name indicates, Jack Canfield's Train the Trainer program is designed to teach participants how to speak, teach, train, and coach others using Canfield's holistic, "whole body" teaching methodology. The program equips participants to transform the lives of their students, employees, clients, and groups using a proven, step-by-step, experiential teaching process. Participants also learn how to use Canfield's core Success Principles and powerful experiential exercises to help others overcome blocks and create real change in their lives.
The training program helped Biss reaffirm his passion and excitement about doing the work of helping improve lives and making the world a better place. Biss has applied Canfield's Success Principles in his own life, empowering him to focus his energy on the things in his life that most align with his passion and personal mission. Biss explains: "Through reflection and meditation, I have gained insight to articulate my personal mission as, 'I work to inspire others toward happier and more fulfilling lives. I contribute to the world through charity and stewardship—striving to provide benefit to all with whom I engage.'"
In other words, Biss is dedicated to helping others enjoy more and suffer less. "This personal mission is now my guiding star and provides a litmus test for considering my investment in any opportunities or pursuits," he says.
Helping and serving others are qualities that are intrinsic to the very nature of Biss, a retired Marine Corps officer who served his country for 16 years. Biss is also a philanthropy activist and the founder of One Million Goal Inc., a nonprofit he created to address the world's water problem. Through the organization, Biss is endeavoring to bring drinking water to one million men, women and children worldwide.
That same spirit of benevolence and service reverberates in Biss's writing. Recently, Biss released his second book, The Spheres Approach to Happiness and Fulfillment. A 2016 Readers' Favorite Award Winner, the book shares Biss' personal philosophy for dealing with the negativity that can lead to fear, frustration and disappointment. By using universal principles, Biss teaches how to find a silver lining or inspiration in every challenge or obstacle life presents.
In his first book, Biss also sought to empower and inspire people—but in a different way. The book, entitled Charity The Gifts of Giving, reveals how charitable giving, kindness and acts of generosity have an impact not just on recipients, but also on donors. Biss maintains that giving time, money and other resources generates positive energy, feelings of gratitude, a sense of control and many other benefits. In an effort to help readers leverage the benefits of selfness, the book discusses topics like combating anxiety, managing stress and creating a more fulfilling life experience. Both of Biss's books are available at Amazon.com.
For more information about Biss or his new training certification, visit http://www.garretbiss.com or email garret(at)garretbiss.com.
About Garret Biss
Garret Biss is an award-winning author and professional speaker who seeks to educate, empower and inspire others toward a happier and more fulfilling life. Biss was trained by America's No. 1 success coach, Jack Canfield, the co-creator of the Chicken Soup for the Soul Series. He is a certified trainer in Canfield's Success Principles and offers keynotes and workshops on a variety of topics. Biss is a high-achiever who was mentored by productivity guru Gary Keller, co-founder of Keller Williams Realty. In addition, he is the founder of One Million Goal Inc., a foundation devoted to raising awareness and money to provide clean drinking water to those in need. Biss holds a Bachelor's Degree in Mechanical Engineering from the University of Maryland, College Park, as well as a Master's Degree in Real Estate Development from Auburn University. He previously was a KC-130J Aircraft Commander in the Marine Corps and retired from active duty as a Captain in 2015. Biss, who was born and raised in Wilmington, Del., currently lives in New Bern, N.C.
###