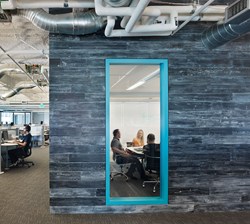 Where other businesses zigged, we zagged looking ahead, investing in our people, our equipment, and diversifying our reclaimed wood products.
Farmington, NY (PRWEB) July 31, 2013
While companies hunkered down to weather the recession, often laying off employees and cutting marketing, Pioneer Millworks pushed the limits, keeping employee benefits, maintaining marketing, and adding to their sales staff.
"Where other businesses zigged, we zagged," explained Pioneer Millworks General Manger, Jennifer Young. "We looked ahead, beyond the recession, investing further in our people and our equipment, streamlining processes and diversifying our reclaimed wood products."
Pioneer Millworks has added sales representatives in Washington, Maryland, California, and Oregon to better serve those regions. The new team members have extensive experience in reclaimed wood and eco-friendly industries.
"In addition to bolstering our sales staff from two people to seven, we upgraded milling equipment, expanded our pre-finishing options, and are now in the process of opening a west coast showroom in Portland, Oregon," continued Young.
Abby Mages, previously co-owner and manager of a large eco-friendly materials and supply company, brought her knowledge to Pioneer in May. Now part of the Portland, Oregon group, she is handling sales and will be launching Pioneer's Portland showroom. "I'm excited to be a member of the Pioneer Millworks team. Sharing the story, design flexibility, and quality of reclaimed wood with other Oregonians in our new showroom will be a highlight for me," said Mages.
Before the recession, the company focused on reclaimed wood flooring and timbers. During the slower years, they developed reclaimed wood paneling (solid and engineered), wide plank reclaimed engineering flooring, and custom textures and finishing from staining to Shou Sugi Ban (a Japanese method of charring wood). Broadening their product line has allowed the company to service larger commercial and retail projects with higher efficiency while leading the industry in design trends.
"It is great to be on the cutting edge with a company that believes in their products and employees," said Ray Pettengell, the company's California representative. "I think expanding our custom finishing options has been a huge benefit to architects and designers. It gives them more tools for their toolbox."
More details and information will be released as the company finalizes their west coast showroom. Visit the company's website for more on custom finishes and paneling.
Pioneer Millworks is the leader in the reclaimed wood industry. To date, they've rescued nearly 22 million board feet of old wood from rot and landfills, giving it new life as flooring, millwork, cabinetry, and more. All manufactured in the USA from New York and Oregon — in a way that's healthy for customers, employees, and the environment. Pioneer Millworks is FSC certified and Green America approved. All of their products are LEED point eligible.