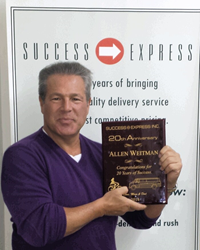 'I am exceedingly grateful to have had the opportunity to provide top level service to a wide array of companies in various industries,' says Weitman
New York, NY (PRWEB) May 21, 2014
Allen Weitman understands success. 20 years ago, after working in the messenger industry for many years, he combined his wedding money, a bank loan, personal loans, and everything else he could scrape together, and founded Success Express. "This has GOT to be a success," thought Weitman at the time. Hence the name and the company were born.
Weitman started Success Express on Valentine's Day in 1994 with a hand truck, four messengers and himself as the salesperson and dispatcher. 20 years later, with over 25 vehicles and 75 messengers, Weitman still employs one of his original messengers and has also retained his first client. His secret? Weitman recognizes that his longevity is due to maintaining a high level of customer service by building long-standing relationships and keeping his rates competitive.
At a time when small businesses have a 25% chance of lasting more than 15 years, and with attention spans getting shorter and shorter and people having more and more options to choose from, 20 years in the professional services industry is quite the accomplishment. This is not lost on Weitman: "I am exceedingly grateful to have had the opportunity to provide top level service to a wide array of companies in various industries. I've also had a fantastic professional staff over the years that have shared my passion for customer service. It really has been a labor of love from the start."
Labor of love indeed. And founded on Valentines's Day no less. Weitman truly found the right formula for Success (Express): 20 years of building relationships, one delivery at a time.