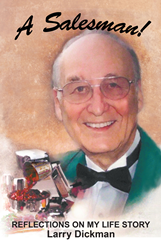 "Audience members came up to me after the conference and told me they loved hearing about my journey. I knew from then on that I needed to share my life story and express to readers that when the going gets tough, never give up."
KENNEWICK, Wash. (PRWEB) September 30, 2019
Nothing great in life comes easy. There are obstacles, challenges, and difficulties that put things into perspective. Author Larry Dickman shares his inspirational story of starting from the bottom and climbing to the very top. In his recently released debut memoir, "A Salesman!: Reflections on My Life Story," Dickman showcases growing up during the great depression, joining the Navy, finding his faith, and becoming a successful salesman. Throughout his autobiography, Dickman reflects on the hardships that he faced throughout his life as well as the many successes that he accomplished.
The authors story began on a small farm outside of Hammond, Minnesota, where he was born in 1934. When his family moved to Oregon when he was a young man, Dickman was faced with the choice of staying with his alcoholic father or leaving with his mother who was searching for a better life. He decided to stay with his father, which came with challenging obstacles.
Throughout the book, readers will experience the struggles that the author faced and grew from. Dickman was introduced to his faith by a spiritual awakening that he experienced while serving in the Navy. This experience led him to become a pastor and to the world of sales. From then on, he has been thriving as a salesman and has been following his dreams. Dickman expresses in his memoir what it takes to be an accomplished sales person and that the world of sales is constantly changing. He not only dives into his journey as a salesman, but he also illustrates that trust is the most important message that a sales person can have to succeed. Furthermore, he addresses his experience finding his faith and how that plays a role into his career and everyday life.
"I was inspired to write this book after speaking at a motivational conference where I discussed my life and career path as a salesman," Dickman said. "Audience members came up to me after the conference and told me they loved hearing about my journey. I knew from then on that I needed to share my life story and express to readers that when the going gets tough, never give up."
"A Salesman!" is an honest look at the author's life and everything that he had to go through to get to where he is today.
"A Salesman!: Reflections on My Life Story"
By Larry Dickman
ISBN: 978-1-4808-3044-8 (softcover); 978-1-4808-3045-5 (hardcover)
Available through Amazon, Barnes & Noble, and Archway Publishing
About the Author
Larry Dickman began his career in direct sales in the 1950s. He became a Saladmaster Cookware dealer in 1965 and was also a part-time pastor. He remains active in Saladmaster as a trainer and motivational speaker with a Grand Master/Elite dealership. Dickman plans to continue writing and is hoping to have a new book out soon.
For general inquiries, interview & review copy requests contact:
LAVIDGE – Phoenix
Grace Bywater
480-998-2600 x 534
gbywater(at)lavidge(dot)com