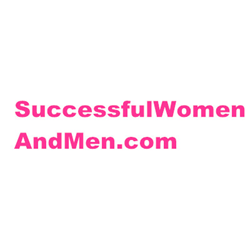 (PRWEB) April 11, 2015
Successful Women And Men is the site that is designed to help single successful women and single successful men meet. Though many members are well educated, successful, beautiful, or attractive, every type of single is welcome there. Members don't have to be rich or famous.
SuccessfulWomenAndMen.com has created official Facebook and Google+ pages. Matt, the webmaster, hopes more people can find the site from different portals.
The site has been doing a valuable job connecting successful singles and admirers. Here is one success story: "I found my match, finally! Thank you. Well, I can tell you I met FitMD4U several months ago. We corresponded quite a few times and got along well. Although I was looking forward to meeting him, I decided to give dating a break and I deleted my original profile. I never said goodbye to Mark nor did I leave my contact information outside. I did meet someone several weeks later at a lounge that was much younger than Mark, extremely attractive and educated. After two dates, the guy turned out to be a total nightmare!"
"I returned to MM vowing it was my LAST attempt in finding love. One of the first men to contact me, with his number this time, was Mark. I immediately texted the number he left and he responded within minutes. Mark and I have either called or sent texts every day since, 5-10 times a day."
"He drove to Orlando from Tampa yesterday to finally meet me. I can honestly say I have never met such a humble, intelligent man in my life. For the first time in my life, I felt like a Princess. The date went on for hours, respectfully, and he asked me to please make it exclusive! I agreed, so we will see where destiny takes us." —from member DivineLove2015
Lewis, the leader of SuccessfulWomenAndMen.com, said many successful women and men would like to meet other successful or attractive people. SuccessfulWomenAndMen.com supplies the platform for them to find ideal lovers conveniently.
To protect users' privacy, Lewis discloses members can set up private albums and only show photos to favorite members or those who meet the requirements.
Members can search for verified members and certified millionaires on the site. Members can verify members' occupation, education, and age. Others can search for members by keywords. The features of "Members' Luxuries" and "Topics" are popular on the site. Successful people can share their luxuries with other members. Members can also get to know each other by viewing common interests before connecting.
Lewis hopes the site can help more successful single men and women find the ideal matches.
To learn more about the site, please visit http://www.SuccessfulWomenAndMen.com.