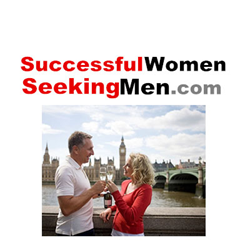 SuccessfulWomenSeekingMen.com is for successful and attractive singles.
(PRWEB) June 20, 2015
SuccessfulWomenSeekingMen.com has been launched for successful women seeking men and successful men seeking women. In terms of dating sites, it has the largest amount of successful and attractive women and men seeking future relationships.
Though many members are well educated, successful, beautiful, or attractive, every quality single is welcome there. Members don't have to be rich or famous.
SuccessfulWomenSeekingMen.com has created a number of social network accounts. Matt, the webmaster, hopes more people can find the site from those different portals.
It has been doing a valuable job connecting successful women and successful men. Here is one comment from a member with the username of BellaBella40: "I wish I knew about this site a long time ago. Within a day of joining, I was shocked when I got confident, serious messages like, 'What is your intent here?' or 'Are you looking to get married?' That totally threw me off because on other websites, men seemed to waste my very valuable time. Your site is the epitome of what dating sites should be, to link people who honestly want to find someone in their life. It's comforting to see men actually prefer stability in a relationship rather than randomness. It's also refreshing to interact with confident, direct and very communicative gentlemen, and this touch of class has made me really appreciate how wonderful of a person I am too. To be able to put all of myself out there, knowing quality men will actually respect and appreciate someone of substance, that is just fantastic! I look forward to the day when I will not search any longer."
Lewis, the leader of SuccessfulWomenSeekingMen.com, said many successful women and men would like to meet other successful or attractive people. SuccessfulWomenSeekingMen.com supplies the platform for them to find ideal lovers conveniently.
Features of the site include:

To protect users' privacy, Lewis discloses members can set up private albums and only show photos to favorite members or those who meet the requirements.
Members can search for verified members and certified millionaires on the site by verifying occupation, education, and age.
Others can search for members by keyword(s).
The feature Members' Luxuries is popular on the site. Successful people can share their luxuries with other members.
Members can also get to know each other by common interests before connecting.
Lewis hopes the site can help more successful and attractive men and women find their ideal matches.
To learn more about the site, please visit http://SuccessfulWomenSeekingMen.com.