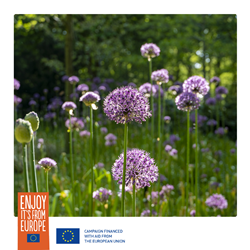 Alliums are unique-looking, wonderful plants that are a gardener's and pollinator's best friend.
PHILADELPHIA (PRWEB) October 12, 2022
Alliums are unique-looking, wonderful plants that are a gardener's and pollinator's best friend. Available in a wide variety of colors and sizes, their vibrant spherical flower heads stand out in the garden. They even provide multi-season interest with their seed heads, making a stunning display throughout the summer, fall, and winter. No matter the landscape, alliums are the perfect plant to add flair to the garden.
Benefits of Alliums
The allium family includes edibles like garlic, chives, and onions, but many people grow ornamental varieties for their beautiful flowers and benefits to the garden ecosystem. Their round, puffball flowers in varying shades of white, pink, and purple are a favorite of bees and butterflies and provide an essential food source from late spring to early fall. Additionally, alliums have been shown to repel pests like rabbits and deer.
When and Where to Plant Alliums
Alliums are hardy in USDA zones 3-9, making them suitable for many parts of the United States. They are easy to grow and require little maintenance. Plant them in a sunny spot in the garden in early to mid-autumn and watch them explode with color from late spring to fall. Though they prefer well-draining soils, they can tolerate drier conditions once established.
How to Plant and Care for Alliums
In the autumn, allium bulbs are planted about two to four inches deep – depending on bulb size – in the ground, where they will spend the winter growing strong roots. According to garden expert Stephanie Rose from Garden Therapy, "it's best to cluster bulbs together, with groupings of 12 to 25 small bulbs or 3-6 large bulbs looking the most attractive in the garden."
Succession Planting For Extends Blooms
With the variety of different alliums, there are many different cultivars to choose from, making them perfect for succession planting. Gardeners use this planting technique to mix varieties and cultivars for staggered blooms throughout the season. By succession planting allium cultivars, gardeners can provide essential food for pollinators and create an ever-changing show in the landscape from spring to fall. Some examples include:

Spring bloomers – 'Jeannine' Golden Onion, Giant Onion, Tumbleweed Onion
Summer Bloomers – Blue Globe Onion, Stars of Persia, Drumstick Allium
Late summer/ early fall – Japanese onion, Circle onion, 'Hair' Onion
With so many unique varieties to choose from, gardeners can create a garden bursting with color and texture from spring to fall while creating a beneficial ecosystem in their backyard.
This Campaign is financed with aid from the European Union.
Flowerbulbs.com is a promotional agency for the flower bulb sector. Their goal is to educate and inspire new and experienced gardeners. They do not sell flower bulbs; they encourage consumers to visit their local retailer. High-resolution images are available royalty-free when citing FlowerBulbs.com as the source. Visit http://www.flowerbulbs.com for more information.
Garden Media Group specializes in the home, garden, horticulture, outdoor-living, lawn and landscape industries. They offer innovative PR campaigns designed to secure top media placements and partnerships with traditional and social media. For gardening tips, new product announcements, and PR and marketing tips, visit http://www.gardenmediagroup.com.