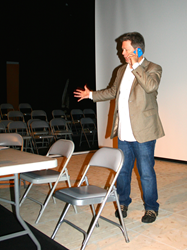 "It's a major part of improving all healthcare experiences. Any providers, without formal training will lose money, patients and market position - no question."
Buffalo, New York (PRWEB) April 28, 2015
Success Stories, Inc. is in its 25th year as a healthcare, life science and not for profit management and marketing consulting firm. President, Thomas P. McNulty has 35 years in healthcare at a variety of C-level positions and started the firm in 1990. "It is long overdue that we acknowledge the word 'hospital' is in 'hospitality,' but it does not guarantee you'll find any five-star care in many facilities. Today, that sad truth is in every provider type from small private practices, managed care, behavioral health, nursing homes, urgent care, physical therapy and even your local drugstore. When we speak about hospitality, we are delving far deeper than a customer service plan or an episodic campaign about be nice to others," McNulty stated. Success Stories, Inc. is upgrading its social media to reflect the new service.
"The idea is not new, but we are approaching healthcare as the ultimate hospitality experience because what could be more precious than your health or that of a loved one? The studies and personal stories are abundant about how a hospitable environment adds to the healing process or at least reduces anxiety. Going to any health service can raise anxiety, so why do we raise patient's blood pressure by upsetting them more? With new government reimbursement penalties for bad patient satisfaction scores combined with Generation Xers filming and going to the Internet to very aggressively report bad care, we are working to help organizations grow their market share," McNulty commented.
McNulty's Success Stories, Inc. brought the idea to Hilbert College in New York to host a morning seminar on healthcare hospitality to measure interest. With a larger than expected turnout and a variety of types of providers in attendance, the response was very favorable. The presentation was highlighted by actor, writer, director, Peter Herstsgaard, president of Invizion opening with two theatrical scenes designed to illustrate the depth of the issues. After the two performances, actors stayed in character to answer tough questions from the audience. The actors portrayed a CEO, chief legal counsel and an out of town consultant assigned to point out risk areas. Panel experts added dramatic legal, financial, image and generational consequences of poor hospitality.
Prior to the conference, McNulty put into motion the creation of an association for members of all types of healthcare organizations to benefit from training, webinars and even college education programs. Corporate papers are in process and the opportunity to find a home at a college or university will likely go to an Request for Proposal (RFP) process. Meanwhile, McNulty's firm is already providing healthcare hospitality consulting and accepting qualified requests. Invizion has partnered with Success Stories, Inc. to offer the interactive educational and training approach."I have worked with Mr. Hertsgaard on several projects. His innovative and very effective training techniques have been brought in by many Fortune 500 companies, but he's made a commitment to do large scale projects and I'm delighted," McNulty noted.
Medicare has been fining hospitals across the country for poor patient satisfaction and each year the number and amount of fine increases. "If these organizations invested in healthcare hospitality training and culture change, the payoffs would be significant and lawsuits would go down, too. Just imagine. It's hard to argue the sensibilities of such a corporate mandate," stated McNulty
Success Stories, Inc. is headquartered in Orchard Park, New York with branch operations in New York City and Fort Lauderdale, Florida. Communities interested in a large scale healthcare hospitality seminar should contact Success Stories, Inc. at tomsuccess(at)verizon(dot)net. Academic institutions interested in being part of the RFP process should send an email to Success Stories, Inc.
###
Thomas P. McNulty is available for interview.
(716) 481-4578