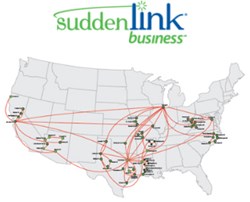 Sandy, Utah (PRWEB) August 22, 2013
Telarus, Inc., distributor of business cable solutions, today announced that it has entered into an agreement with Suddenlink to sell their portfolio of small, medium, and enterprise broadband and voice solutions. The agreement marks Suddenlink's entry into the outside sales channel, enhancing its ability to reach higher-end business clientele. Telarus, Inc. has been chosen to be the first master agent in the new program.
"We are excited to begin selling our world-class business products through the agent channel," said Nathan Geick, head of the Suddenlink Alternate Sales Channel. "Agents have a unique ability to sell voice and data solutions to medium-to-large enterprises. With the help of Telarus, Inc., their staff, and their automated sales tools, we'll be able to compete for and win future business as Suddenlink becomes part of the solution independent consultants and managed service providers propose to their clients."
The new Suddenlink agent program will focus on Suddenlink's core portfolio of small business broadband and voice products, in addition to its metro Ethernet and high-capacity IP transport service offerings.
"We are humbled and excited to be the first master agency chosen to distribute services for Suddenlink, and are honored to be a part of their new channel program," added Adam Edwards, president of Telarus. "This partnership will create new and exciting selling opportunities to our community of independent sales agents and managed services providers. As part of our Suddenlink support plan we have already begun to build out our automated pricing system - GeoQuote - so that our partners will be able to know where Suddenlink's business solutions may be a good fit for their clients."
For more information about the Suddenlink - Telarus, Inc. relationship, please contact Austin Holverson, Business Development Manager for Telarus, at (877) 346-3232.
About Suddenlink
Suddenlink (suddenlink.com) is the seventh largest cable operator in the United States, supporting the information, communication and entertainment demands of approximately 1.4 million residential and commercial customers in Arkansas, Louisiana, North Carolina, Oklahoma, Texas, West Virginia and elsewhere. Suddenlink simplifies its customers' lives through one call for support, one connection, and one bill for TV, Internet, phone and other services.
About Telarus
Telarus, Inc., a value added distributor that holds contracts with the world's leading commercial telecommunication carriers, makes it easier and more profitable for solution providers, VARs, and MSPs to sell and source voice and data WAN and MPLS solutions. Our patented GeoQuote platform combines real-time carrier pricing with advanced research features and branded proposals. Telarus' experienced Sales staff is strategically focused on enterprise WAN and high-capacity bandwidth solutions, making it easier to find the best offer, every time. For its part, Telarus has been named the top Master Agent by the members of the Telecom Association in each of the past three years, the first and only company in the carrier channel to accomplish this feat. Whether you are a top producer or a voice-and-data expert just starting out on your own, there is a place for you in the Telarus community. For more information on the Telarus partner program, please visit telarus.com or call the new partner hotline at 877-346-3232.