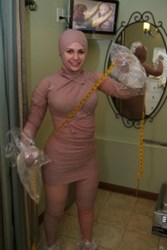 We ask women to wear in a pair of jeans so tight they have to lay on the bed to zip them. Every Patron sees visible improvement after a mineral body wrap but when their clothes fit differently, it really hits home!
(PRWEB) January 31, 2014
Slimming body wraps slenderize and sculpt the figure using tightly-wrapped stretch bandages soaked in a warm mineral-rich solution. Overall slimming and problem spot solutions such as the "Flat Tummy Wrap" have made this mineral body wraps extremely popular over the last 40 years. Body wraps can be done on both men and women to improve visual appearance. They have an added benefit of detoxification effect to help improve overall physical health.
Suddenly Slender, The Body Wrap was created in 1969 by Ms. Morton to resolve her own weight and water retention problems. A testimony to her own invention, Ms. Marie has a better figure now, forty five years later, than she did at 34 years of age. With over 1,100 Suddenly Slender, The Body Wrap licenses and franchises sold worldwide and in 23 countries, Ms. Morton provides business opportunities for the ambitious entrepreneur by providing complete and on-going training and support for Suddenly Slender, The Body Wrap Licensees.
Victoria Marie has not only created her own success as an inventor and entrepreneur, but has also made it possible for many hundreds of people worldwide, to own successful businesses of their own. Recent changes have made it possible for any salon or home business entrepreneur to offer body wraps using Suddenly Slender products without the huge initial investment of license/franchise fee. New businesses must be outside of the territory of currently operating Suddenly Slender Licensees, but a simple wholesale product purchase from Suddenly Slender Inc. is now all that is required to deliver mineral body wraps using Suddenly Slender products to spa, salon or home wrap clients.
About Suddenly Slender: The company was founded over four decades ago by Victoria Morton, who invented the mineral body wrap system. Currently the company retails its products internationally from its home office in Safety Harbor, Florida.