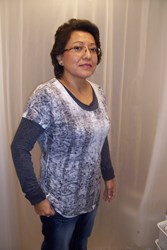 Ever since Jeanie achieved a world record loss of 74 inches on Barbara Worten during the Extra Show in Las Vegas, we have been committed to helping men and women look their best.
Durango, CO (PRWEB) November 30, 2013
Birty Box was determined to find a way to lose inches and reshape her body into a form she was happy with. After meeting the ladies of Suddenly Slender Now, she decided to do a series of mineral body wraps. The shop uses only slimming body wrap products manufactured at Suddenly Slender Inc. The parent company was started by Victoria Morton over 40 years ago to help those who wished to sculpt their bodies to look more sleek and slim.
Cherie Hughes has helped many people over the past decade, and most who come in for wraps lose from 30 to 60 inches when measured before and after the wrap from neck, upper arms, waist, hips, thighs, etc. Many before and after photos and testimonials are listed on her website. Jeanie Cole recently helped Cherie to come up with a new wrap technique which breaks down abdomen fat quicker to leave the tummy area flatter. Re-sculpting and re-shaping is the goal of a mineral body wrap, moving the fatty areas into a more classic shape while eliminating bulges, cellulite and stretch-marks.
About Suddenly Slender Now - Located in Durango, CO, Cherie Hughes and Jeanie Cole, identical twin sisters, run Suddenly Slender Now which licensed outlet of Suddenly Slender Inc. for over 13 years. Victoria Morton, President and Founder of Suddenly Slender Inc., made Cole and Hughes a part of the Suddenly Slender research team to test new products and wrap techniques to maximize the inch loss for each wrap. http://www.suddenlyslendernow.com, (970) 259-6961