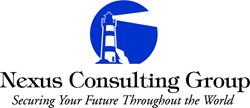 The Suez Canal attack has been downplayed, perhaps intentionally, for several days.
Alexandria, VA (PRWEB) September 06, 2013
Nexus Consulting is heightening their warnings regarding traversing the Suez Canal following the recent terrorist attack on a merchant vessel. A group called "Al-Furqan" has claimed responsibility for the RPG attack on the Cosco Asia on September 1, 2013. However, in a recently released statement from the terrorist group, the group states there will be more attacks to come which will be "more severe and bitter." (Ahram.org, September 5, 2013)
"This event has been downplayed, perhaps intentionally, for several days," said Nexus President Kevin Doherty. "The Suez Canal is a key transit point for global commerce, and any disruption in security has significant consequences for shipping companies, insurers and governments."
The Egyptian Military had previously indicated that the perpetrators had been "dealt with," (BBC, September 1, 2013) but this may not be completely correct, as at least one terrorist group has claimed responsibility for a recently uploaded video to YouTube. (Reuters, September 1, 2013)
"Due to the limited and possibly erroneous information, we had a hard time establishing the facts on this attack, but we are certain the attack happened and believe there is a very high risk of near future attacks," Doherty added.
In light of these developments, Nexus is heightening their warnings and encourages all ships traversing the Canal to maintain extreme vigilance per Nexus' recent recommendations release to ensure crew safety.
"Ship operators must assume the greatest risks to their vessels and take all necessary steps to protect the crew during Suez transit," said Doherty. "There are a few vital choke-points in the world that must be open and secure – Suez is one of these. With the heightened Egyptian military presence, we hope that these attacks will be mitigated, but we continue to urge caution and vigilance when on the Canal."
The terrorists shown in the video seem to still be at large, and the fact that this video was posted two days following the attack may indicate further action by this group is ongoing.
For more information on Nexus Consulting, an ISO 9001:2008 certified maritime security firm, please visit ncga.us.