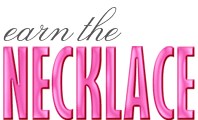 Dating a much older sugar daddy isn't for everyone, but it certainly is the ideal choice for a growing number of younger women.
New York, NY (PRWEB) July 27, 2013
EarnTheNecklace.com, a revealing and engaging web site with articles written by women who exchange their stories and confessions about being in a relationship with a much older man, releases its expert opinion on why a controversial billboard campaign in Oklahoma City that promoted age gap dating was taken down and calls for its re-erection.
An advertisement for an online dating site, the billboard featured the image of a woman looking in her compact mirror, demurely applying lipstick. Next to her were the words, "Hey Students, Need a Summer Job? Date a SUGAR DADDY." Many felt the billboards were in bad taste, and could lead young women down a road of moral destruction. The billboards were removed in Oklahoma City after a large outcry; they were also totally banned in other cities, including Chicago. (Source: News9, "'Sugar Daddy' Billboard Taken Down In OKC," http://www.news9.com/story/22873485/sugar-daddy-billboard-taken-down-in-okc, July 18, 2013.)
"Dating a much older sugar daddy isn't for everyone, but it certainly is the ideal choice for a growing number of younger women," says Riya Beaumont, EarnTheNecklace.com's content editor. "The fact of the matter is, the billboards are not 'X rated' and don't break any decency laws, nor is the web site the billboard promotes illegal. While some complained that the Oklahoma City sugar daddy billboards targeted their 17- to 19-year-old daughters and is in bad taste, I think a bigger concern would be finding out how a simple billboard ad could sway someone into doing something they either had never considered before or didn't want to do."
A representative from the dating site assured everyone that the site has nothing to do with prostitution; rather, it is a place for women and men looking for mutually beneficial relationships.
"When it comes right down to it, the billboards are simply being targeted because they promote age gap dating," Beaumont notes. "And by demanding the billboards be taken down, people are just saying that younger women and older men who want to date don't deserve to have a forum where they can meet each other."
"This is unfortunate. Today's college students are in a unique situation where they have busy academic schedules," she observes. "There are also a lot of older men who want to find someone who will keep them young at heart. Also, some people aren't willing to commit the time and energy necessary to find and build a serious relationship using traditional dating methods."
"At EarnTheNecklace.com, we know there's more to a successful relationship and sexual chemistry than biology," Beaumont concludes. "A lot of younger women are tired of dating men their own age, because those men are immature. Instead, they'd rather connect with an older, more mature man who is fun, ambitious, confident, and financially secure."
To learn more about Earn the Necklace, visit the web site at http://www.EarnTheNecklace.com. The site wants to hear from women dating or married to men 20 years or more their senior! And if it's a story they publish, they'll pay $500.00, with an opportunity to write more.
About the Web Site: Earn The Necklace (EarnTheNecklace.com) is a web site featuring stories written by women in relationships with much older men and that want to help other women in the same situation. The site helps women in this position understand and navigate the potential ups, downs, joys, trials, and even unforeseen consequences, all based on real-life stories from women who have been in the same situation. Plus, the web site offers other celebrity gossip and juicy stories, all geared to those who are in a relationship with a much older man.