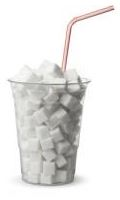 It is good to see that calls for a reduction in sugar consumption are finally gaining traction.
Bournemouth, Dorset (PRWEB UK) 17 March 2014
Oral health experts at Eludril and Elgydium are backing new warnings about the health risks associated with eating too much sugar.
The manufacturers of Eludril mouthwash and Elgydium toothpaste are supporting a new World Health Organization (WHO) call for people to halve (1) their daily sugar intake.
Sugar consumption should be cut by 50 per cent to six teaspoonfuls per day, according to new draft guidance by WHO.
Officials at WHO are retaining their current formal recommendation that no more than 10 per cent of an individual's daily calorie intake should come from sugar. This equates to 12 teaspoonfuls per day.
But they say that a further cut to five per cent of daily intake (six teaspoonfuls) would be beneficial – advice echoed by the team at Eludril and Elgydium.
"It is good to see that calls for a reduction in sugar consumption are finally gaining traction," said a spokesperson for Eludril and Elgydium.
"Much of the new impetus centres on concerns over obesity and tooth decay but we have consistently warned that consuming too much sugar can also lead to gingivitis, which has been linked with more serious conditions such as heart disease and strokes."
Early symptoms of gingivitis should not be ignored because the bacteria that cause the problem will multiply and the effects will become more pronounced.
Too much sugar in the diet makes the problem worse because it increases mouth acidity – ideal conditions for the spread of the bacteria.
What starts out as bad breath and a redness or aching in the gums can – if left untreated – lead to far worse dental problems.
If nothing is done to stem the problem, gums can slowly be eroded, gradually exposing more of each tooth in the affected area.
Regular dental checks are important so that the condition can be identified and dealt with early. The recognised treatment is chlorhexidine. It has been recommended by dentists all over the world for decades.
Eludril mouthwash and Elgydium toothpaste both contain chlorhexidine as an active ingredient.
Eludril can be used as a short term treatment for gum disease. It is also available as a mouth spray if stronger pain relief is required.
Elgydium toothpaste can be used daily to help prevent or treat the effects of gum disease. It is available with Anti-Plaque, Whitening or Decay Protection.
For more information about Eludril mouthwash and Elgydium toothpaste, contact Lindsay Revill at Ceuta Healthcare on +44 (0)844 243 6661.
(1) World Health Organization Advises Halving Sugar Intake, Daily Telegraph, 05 March 2014
-Ends-
Notes For Editors
Eludril and Elgydium are represented in the UK by:
Ceuta Healthcare Ltd
Hill House
41 Richmond Hill
Bournemouth
Dorset
BH2 6HS
Tel: +44 (0)844 243 6661
Eludril Mouthwash is an antibacterial and analgesic solution which can be used to manage a number of oral health problems.
Its main use is to treat and prevent dental plaque formation and gum disease (gingivitis, also known as periodontitis) by preventing the build-up of bacteria.
Eludril Mouthwash can also be used to maintain oral hygiene in situations where tooth brushing is difficult, for instance, following oral surgery or in physically or mentally handicapped patients.
Eludril can also be used as a disinfectant for the cleansing of removable dentures and in the management of common mouth ulcers and oral candidiasis infections (fungus infections).
Elgydium Anti-Plaque toothpaste is specially formulated for sensitive gums and helps to prevent dental plaque and tartar build-up, the major causes of tooth decay and gum disease.
Elgydium Whitening and Decay Protection are also available as part of the Elgydium range of toothpastes.