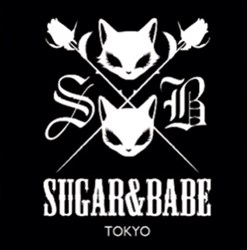 "Our girl is one who considers her style what sets her apart from the crowd,"
Los Angeles, CA (PRWEB) September 04, 2013
Created in the fashion district of Japan, SUGAR & BABE TOKYO is famed as a trendsetter within the juniors' fashion marketplace. The brand will launch in the United States at select Wet Seal retail stores and globally online at http://www.WetSeal.com. Stores will carry a limited-edition collection of fashion tops, hoodies, tee shirts, leggings, sleepwear and accessories that are playful, fun and always sweet.
SUGAR & BABE TOKYO is fashion for the fun-spirited, wildly independent lover of music festivals and distinctive fashion. The SUGAR & BABE brand is targeted to juniors primarily, ages 16 to 26. "Our girl is one who considers her style as what sets her apart from the crowd," said Joel Epstein of Coda Apparel Inc., the USA licensee of SUGAR & BABE TOKYO. "She wants to lead the crowd, not follow it – and she makes her personal fashion statement with SUGAR & BABE in her wardrobe."
The SUGAR & BABE brand's look is inspired by the fashionable "street-style" of the sidewalks of TOKYO and reminiscent of the ensembles showcased on the runways of London. "We believe the SUGAR & BABE brand is distinctive in the marketplace and one that junior customers will find alluring," said Epstein.
The SUGAR & BABE line has already begun to generate popularity within the United States' celebrity world. Celebrity fans include Camila Banus from Days of Our Lives on NBC, Paige Thomas of Fox TV's The X-Factor, Lornalitz Baez of NUVO-TV's Curvy Girls, Candice Glover, American Idol Season 13 Winner and American Idol Season 13 Finalists, Angie Miller and Amber Holcomb.
About The Wet Seal, Inc.
Headquartered in Foothill Ranch, California, The Wet Seal, Inc. is a leading specialty retailer of fashionable and contemporary apparel and accessory items. As of August 3, 2013, the Company operated a total of 525 stores in 47 states and Puerto Rico, including 464 Wet Seal stores and 61 Arden B stores. The Company's products can also be purchased online at http://www.wetseal.com or http://www.ardenb.com. For more company information, visit http://www.wetsealinc.com.
About DDHPR: Founded in October 2010, DDH PR is a boutique public relations firm catering to an eclectic roster of fashion, beauty, non-profit, and artist clients. For more information, please visit http://www.DDHPR.com/.