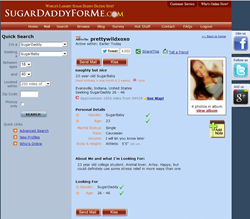 In addition to the offer that SugarDaddyForMe.com is making to Ms. Leathers, the dating site is also offering Anthony Wiener himself a Lifetime Gold Membership at absolutely no cost
New York City, NY (PRWEB) August 09, 2013
According to a Fox News article published July 28th, 2013, "She (Sydney Leathers) used sugardaddy.com to meet men," said a 27-year-old former girlfriend of Sydney Leathers from Chicago who requested anonymity. SugarDaddy.com and SugarDaddyForMe being one and the same sugar daddy dating website. "She met a few guys on that site when she was visiting me" added the former girlfriend. The same Fox News article also noted that, "Leathers called herself a "23-year-old SugarBaby," according to her profile on the SugarDaddyForMe.com dating website."
Screen shots of Sydney Leathers' SugarDaddyForMe.com public profile and photos are available upon request.
Due to Sydney Leathers's connection with SugarDaddyForMe.com, the online dating site is offering her the opportunity to earn up to $1 million and possibly much more as its spokesperson. The website is offering to create a private label version of their sugar daddy dating site with a unique website name, specially branded for Ms. Leathers and to pay her a full 40% of the gross revenues from the traffic she generates as it's spokesperson.
In fact, SugarDaddyForMe.com will extend a similar offer to any celebrity, website, magazine, TV show, media entity, night club, or large affiliate. Anyone who thinks they can generate a significant amount of relevant traffic to their own private labeled sugar daddy dating site should contact SugarDaddyForMe.com. They are offering to build a private label, turnkey sugar daddy dating website filled with their largest sugar daddy and sugar baby member database in the world and to pay 40% of the gross revenues to any person or organization that can show the ability to generate a large volume of traffic interested in this kind of dating.
In addition to the offer that SugarDaddyForMe.com is making to Ms. Leathers, the dating site is also offering Anthony Wiener himself a Lifetime Gold Membership at absolutely no cost, in the event he loses the Mayor's race and gets divorced. Who knows, the two of them may end up together in the long run!
About SugarDaddyForMe.com
Online dating website, SugarDaddyForMe.com is the World's Largest Sugar Daddy Matchmaking, Personals and Dating service with over 4 million members. Since launching in 2005, the website has set the mold for the sugar daddy cultural phenomenon with the goal to bring together successful, generous men and attractive young women that love to be pampered, spoiled and supported. Recently featured in MTV's True Life episode "I Am a Sugar Baby ", two episodes of both The Montel Williams Show and The Tyra Banks Show, Good Morning America, The New York Times and numerous other TV shows, publications, documentaries and anthropological studies, SugarDaddyForMe.com is the world's largest online dating website for sugar daddies and sugar babies looking for mutually rewarding relationships.