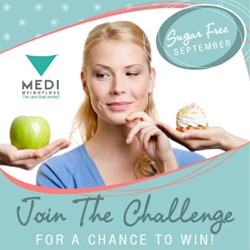 Sugar-Free September Challenge!
Tampa, FL (PRWEB) September 03, 2013
National weight loss Brand, Medi-Weightloss® (http://www.mediweightloss.com) has launched an educational challenge for September: Sugar-Free September.
Americans are eating 50% more sugar today than in the 1970's and we have seen our obesity rates explode during this same time period. Sugar has no nutritional value, is bad for your teeth, may negatively affect your memory, and too much can put you at risk for weight gain and developing type 2 diabetes.
Sugar-Free September challenges people to avoid processed sugar for 1 month. During this month health and wellness experts from Medi-Weightloss® will be publishing more than 30 different facts about sugar via their social media channels. For example, did you know that the average American child consumes 32 teaspoons of sugar daily? Or, that a 20 oz. soda contains the equivalent of 16 sugar cubes?. Learn more fun facts on the Medi-Weightloss™ Facebook page and Twitter feed @MediWeightloss. Everyone following the conversation will have a chance to win one of two $100 gift cards and Sugar-Free gift baskets. Enter to win here: http://bit.ly/187qH8e.
Known as "The One That Works", Medi-Weightloss® is a leading medical weight loss program in the United States. Medi-Weightloss® physicians and medical staff provide an individualized weight loss program that includes nutritional and exercise plans and counseling, dietary supplements, vitamin-based injections and FDA-approved appetite suppressants, if prescribed. On the Medi-Weightloss® Program, patients receive the support, encouragement, and tools needed to lose weight and education to help keep it off! Medi-Weightloss® has more than 78 locations across the nation.