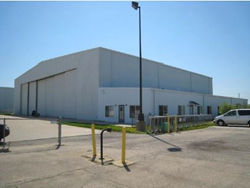 Sugar Grove, IL (PRWEB) June 14, 2014
A prime investment for anyone looking to add diversity to his or her portfolio has opened up at Aurora Municipal Airport, 43W524 Route 30 (Hangar 2) Sugar Grove, Illinois 60554. With 18,200 square feet of hangar space and 3,900 square feet of office space, this is truly a unique opportunity to own a piece of aviation real estate. The hangar is vertically quite spacious, as well, with 34' to 37' clear ceiling heights.
It also sports two 14'x14' drive-in doors and one 28' x 100' Norco six-panel bi-parting hangar door. Open parking for approximately 15 vehicles (per appraiser) is also available. The property is currently leased out (from the city) at $11,000 per month, and is currently listed at $1,350,000 with an opening bid of $750,000 if no offers are received before the auction on June 21.
Sugar Grove, Illinois is located just west of Chicago in Kane County, northeastern Illinois. The town is accessible by several highways: Interstate 88, US Route 30, Illinois Route 47 and Illinois Route 56. Aurora Municipal Airport opened in April 1966; the hangar was constructed in 2004.
Considering the area houses such a wide range of residents and sees attention from people all across the state, it is a safe bet that a well-advertised business near such retail activity would be a profitable opportunity. The team at Micoley.com employs a hybrid strategy specializing in helping buyers with high potential properties just like this one.
Interested parties should visit micoley.com to find more photos and details about the property, or by visiting in person and performing an inspection on site, which is highly recommended. (866) 371-3619 is Micoley.com's information line. Additionally, Micoley.com features a live chat service through which questions can be answered.
About Micoley.com:
Green Bay, Wisconsin-based Micoley.com is a real estate marketing firm specializing in project focused auctions of bank-owned properties throughout the United States. The Micoley.com approach to real estate marketing tailors each auction plan to the client's individual needs. The site is constantly being updated for the benefit of buyers, as large scale auction events are held monthly, and new properties are added daily. IL Broker Firm: Micoley.com LLC #481.011994. IL Broker: Robert Stone #471.015845. WI Auctioneer Firm: Micoley.com LLC #432-53. Registered Wisconsin Auctioneer: Wade T. Micoley #2647-052. WI Broker Firm: WM Enterprises, Inc. #835181-91. WI Broker: Wade T. Micoley #43427-90. For a full list of licensing please visit their website.