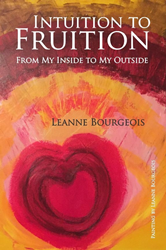 "If this book can save even one person, it will be a tremendous success. We applaud the author's courage and are proud to be the publisher." - Robert Fletcher, CEO of Strategic Book Publishing and Rights Agency
NEW YORK (PRWEB) July 01, 2019
"I hope to save lives by providing my personal story," said author Leanne Bourgeois. "At first, I wrote this for me. I put these words together on paper to help me grieve, heal, and chart my experience. Then I got the idea that I could potentially help others by revealing my own struggles."
"Intuition to Fruition: From My Inside to My Outside" tells how one brave woman survived everything that life threw at her, overcoming trauma as well as her journey with physical and mental health problems. She dealt with severe suicidal thoughts, but never actually attempted suicide. The author offers "the insights I've learned, along with my journey to help others struggling with feeling stuck, or that there's no step they can take."
Besides sharing her experiences about her marriage, divorce, sexuality, and sexual assault, Bourgeois hopes her book will help others speak up who have been struggling in silence, and those who haven't had the right type of treatment. Suicide is on the rise, so getting into therapy is a challenge. Bourgeois hopes sharing her personal account will buy some time for people facing similar suicidal thoughts. Knowing what she overcame, can aid them in overcoming their life challenges.
The author painted the artwork for the cover of this heartfelt book, allowing her to further express her feelings of hope. Intuition to Fruition provides a ladder for success leading toward personal growth and self-esteem.
"I realized I may be a vessel for others needing help and could possibly save the life of someone facing similar thoughts of suicide. In the end, I felt relieved and proud I created this book."
Watch the video book trailer at: https://youtu.be/hGuifGgyUm0
"If this book can save even one person, it will be a tremendous success. We applaud the author's courage and are proud to be the publisher," said Robert Fletcher, CEO of Strategic Book Publishing and Rights Agency.
About the Author: Born in Waltham, Massachusetts, first-time author Leanne Bourgeois resides in Nova Scotia, Canada. She is a graduate of Dalhousie University and has a BA in theatre. A dual citizen, her parents both hail from Canada. Besides writing, she loves to sing and play the piano.
INTUITION TO FRUITION: FROM MY INSIDE TO MY OUTSIDE (ISBN: 978-1-948260-53-4) is now available for $16 and can be ordered through the publisher's website:
http://www.sbprabooks.com/LeanneBourgeois or Amazon.com, Amazon.ca or Barnesandnoble.com.
WHOLESALERS: This book is distributed by Ingram Books and other wholesale distributors. Contact your representative with the ISBN for purchase. Wholesale purchase for retailers, universities, libraries, and other organizations is also available through the publisher; please email bookorder@sbpra.net.