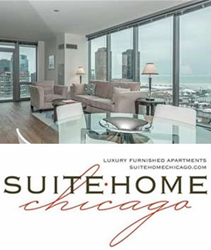 We truly believe this designation will only benefit our firm as we continue to partner with national, corporate clientele.
Chicago, IL (PRWEB) July 16, 2015
Suite Home Chicago, a business specializing in extended-stay corporate housing, received national certification as a Women's Business Enterprise by the Women's Business Development Center (WBDC), a regional certifying partner of the Women's Business Enterprise National Council (WBENC).
WBENC's national standard of certification implemented by the WBDC is a meticulous process including an in-depth review of the business and site inspection. The certification process is designed to confirm the business is at least 51% owned, operated, and controlled by a woman or women.
By including women-owned businesses among their vendors, corporations and government agencies demonstrate their commitment to fostering diversity and the continued development of their supplier/vendor diversity programs.
Owner Jennifer Breen said, "We are thrilled that Suite Home Chicago has become WBE-certified. We truly believe this designation will only benefit our firm as we continue to partner with national, corporate clientele. It is an honor to be among this ever growing list of woman-owned businesses."
About WBENC
The Women's Business Enterprise National Council is the nation's largest third party certifier of businesses owned and operated by women in the United States. WBENC is a resource for the more than 700 US companies and government agencies that rely on WBENC's certification as an integral part of their supplier diversity programs. View more information on the certification process.
About Suite Home Chicago
Established in 2005, Suite Home Chicago offers luxury furnished, corporate apartments with flexible leasing terms throughout the Chicagoland area. The units are fully equipped with modern furnishings, luxury linens, and all the housewares needed for a temporary stay. The Suite Home Chicago staff strive to provide guests a "home away from home" experience, and are equipped to handle large corporate groups, project work, relocation, medical travel, entertainment crews, interns, and government travel.
Suite Home Chicago is a member of Corporate Housing Providers Associate (CHPA), a professional trade association exclusively dedicated to supporting corporate housing providers. Suite Home Chicago owner Jennifer Breen is a certified Corporate Housing Professional (CCHP) and a member of the Women's President's Organization (WPO). To learn more about Suite Home Chicago corporate housing, or contact the company headquarters at (312) 638-0891.