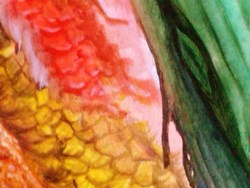 Autumn reminds us of the ashes we all will turn into one day. It hence inspires us to be our best while we are here, so will be remembered long after we are gone...
Santa Clara, CA (PRWEB) October 28, 2013
Artist Sujata Tibrewala is pleased to be showcased at the art exhibit titled "Autumn" at Life Force Arts, Chicago. The show features artists from all over the country and explores the spiritual meaning of Autumn.
Autumn by crude definition is dying of the leaves in preparation of winter.
And death means different things to different people. For some it means a journey into nothingness, for others it means a ticket to a better place. Yet the fact remains, that it is an unchangeable fact, and will come one day without fail.
So why do we deny it so much? As an Indian Poet rightly says-
"Life is but a deceptive lover, who will leave you alone you one day,
Death is the eternal one, who will never fail to take you for ever and ever"
"Is it not prudent then, to make best of the time you are given on this earth? "seems to be the question on Sujata Tibrewala's mind. It saddens her that most people do not view life as a precious gift, but waste it away until it is too late to anything else with it.
Hence the urgency to live your life fully in a way that it touches people positively. It is this spiritual nature that exudes in her art and hence enriches the exhibit at Life Force Arts.
The Life Force Arts Foundation explores the spiritual power of the visual, literary and performing arts through artistically excellent exhibits, events and publications that awaken human potential and create spiritual transformation and healing.The Foundation operates Life Force Arts Center (LFAC), Chicago's spiritual art gallery and performance space, which presents visual art exhibits, dance, theater and music performances, author book signings and workshops with artists who are experts in spiritual art making.
Sujata Tibrewals is a nationally and internationally acclaimed artist, whose art work has exhibited this quality at various venues, including University of Illionois, Chicago, Regional Arts Commission St Louis, Gateway Gallery, Clayton, Naperville Art League, Lalit Kala Kendra, New Delhi, Jawaharlal Kala Kendra New Delhi etc. They have been also featured on cover of BROAD "A feminist and Social Justice" Magazine ,published by Loyola University, Chicago, and has been the subject of various US and Indian newspapers including Examiner, Pioneer, St Louis Art Beacon, Lake View Patch, Hindustan Times, Indian Express, Everything is Art and many more. To top it all off, she has been featured on electronic media by TV Asia, Delhi Doordarshan, TV9 and I have a voice TV, Currently her work is on view at Life Force Arts, Chicago.