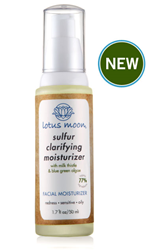 "We believe in providing natural yet effective ingredients for all skin types," says CEO Lake Louise. "This is why we created Sulfur Clarifying Moisturizer which treats breakouts, redness and other skin inflammations but also has long term skin benefits."
Suwanee, GA (PRWEB) June 25, 2014
Lotus Moon launches Sulfur Clarifying Moisturizer, a pore reducing, acne-fighting dual action moisturizer fortified with 15 percent bacteria-fighting Colloidal Sulfur, hydrating Blue Green Algae and Aloe Vera.
"We believe in providing natural yet effective ingredients for all skin types," says CEO Lake Louise. "This is why we created Sulfur Clarifying Moisturizer which treats breakouts, redness and other skin inflammations but also has long term skin benefits including minimizing pores, healing blemishes, and leaving skin feeling alive."
Leading eco-friendly skincare brand Lotus Moon's, all new anti-bacterial, anti-inflammatory and anti-fungal skin moisturizer Sulfur Clarifying Moisturizer combines a concentrated blend of Aloe Vera, Colloidal Sulfur, Blue Green Algae and Milk Thistle extracts improving skin's ability to protect and heal itself. The sulfur based formula acts as an anti-bacterial agent, killing surface germs, clearing pores and reducing oil build up in the skin. Just a pea size amount of the power packed rescue remedy is all it takes.
Sulfur-based beauty treatments may seem extreme, but that is what makes this product all the more unique. Lotus Moon's Sulfur Clarifying Moisturizer is effective, all natural making it especially safe for pre-existing skin conditions and also makes a perfect nighttime treatment. This organic blend of botanical extracts and antioxidants nourish skin cells and penetrate deeply to improve the look and feel of skin over time.
This formula combines chlorophyll-rich Blue Green Algae, only found in the remote area of Oregon Cascade Mountains, oat straw, nettle leaf extracts and collagen building silica. Sulfur Clarifying Moisturizer is specially formulated to prevent blemishes, clear acne, unclog pores and leave skin looking smoother and younger.
About Lotus Moon:
A brand of SMB Essentials, Lotus Moon is an affordable eco-friendly skin care line for all skin types that uses natural and organic ingredients for balanced and radiant-looking skin. Created by Lake Louise in 2002, Louise combines her passion for the environment and love for skincare in creating a wide range of products that include anti-aging serums, moisturizers, peels, exfoliants, and more for the eco-conscious woman. To see what Lotus Moon can do for your skin, visit http://www.smbessentials.com.
About Skin Mind Body (SMB) Essentials
The natural and organic products company producing popular brands like Lotus Moon, Plain Jane Beauty, DetoxRx and SON to address the beauty, grooming and wellness needs of men and women. Founded in 2002; the company is run by Chief Eco-Beauty Officer (CEO) and founder Lake Louise. Combining her passion for sustainability and body wellness, these products are effective yet affordable, all while having minimal impact on the environment. To see what SMB Essentials can do for you and your skin, visit http://www.smbessentials.com.