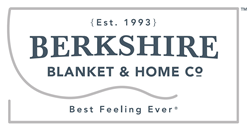 Berkshire Blanket, Inc. will change its name to Berkshire Blanket & Home Co., Inc. The brand will continue to manufacture its expanding product lines as Berkshire Blanket and its various other sub-brands, under the Berkshire Blanket & Home Co. umbrella.
Ware, MA (PRWEB) September 14, 2016
Berkshire Blanket spent their initial 8 years in business producing their goods in the historic New England mill where they are still headquartered today. Their first-to-market introductions, including the Original Microfleece Blanket™ and their own Serasoft® plush fabric, put the brand on the map and made them the go-to supplier to U.S. retailers of higher quality, mid-priced plush and fleece blankets, throws and related softgoods.
By 2001, the demand for Berkshire Blanket's products exceeded their capacity to locally manufacture them. As a result, they entered into a partnership with SUMEC Textile & Light Industry Co., Ltd. to support the considerable growth they had earned in the marketplace.
This relationship has deepened over time, as SUMEC Textile has become the manufacturing arm of Berkshire Blanket, the leading American blanket and throw vendor. In late 2013, SUMEC Textile invested in Berkshire Blanket, acquiring a 25% stake in the company, and therefore solidifying Berkshire Blanket's position as a highly reputable U.S. based blanket company tied deeply to its Chinese manufacturing ally.
The partnership has allowed both companies to develop their positions in the market. By working together, the supply chain has been streamlined, production times shortened and overhead has been reduced. The result has been cost savings that Berkshire Blanket passes on to its customers, while also maintaining the added value that Berkshire Blanket's exclusive product design and development teams bring to the merchandising and selection process.
Year after year, the partners have continued to streamline international operations. The focus has been on transforming processes for efficiency and furthering collaboration across the production process.
Two and a half years after that initial investment, SUMEC Textile saw the opportunity to further strengthen the value proposition of both entities. With their full acquisition of Berkshire Blanket, the combined organization has the power to deliver the highest quality blankets, bedding and comfort décor at the most competitive prices.
Mr. Yang Yongqing, Chairman of SUMEC Group Corporation and Chairman of SUMEC Textile & Light Industry Co., Ltd., states, "This acquisition has already proven its value to our customers through the more aggressive pricing and faster time to market we have demonstrated since our initial investment. By bringing Berkshire Blanket completely into the SUMEC family, we take our next big step in developing internationally, while optimizing our operational resources at both ends of the supply chain."
Berkshire Blanket, Inc. will change its name to Berkshire Blanket & Home Co., Inc. The brand will continue to manufacture its growing lines of products using the Berkshire Blanket name and its various other sub-brands, under the Berkshire Blanket & Home Co. umbrella.
Bruce Stevens, CEO of Berkshire Blanket, states, "Joining these two great companies is such a natural transition. This acquisition will mean we can operate as one company, bringing a tremendous amount of efficiency and coordination to the process. We will now be better able to focus on growing the business. Most importantly, our strategic planning will be front and center as we will have the necessary resources to review and implement appropriate initiatives. Our ultimate goal is very simple-to be the best in class servicing the home textile industry."
Berkshire Blanket's customers should expect to continue receiving industry leading service as the newly acquired company moves into the next phase of its growth. SUMEC Textile expects this new addition to facilitate global expansion of their manufacturing services by leveraging this new American subsidiary.
About Berkshire Blanket & Home Co.
Berkshire Blanket & Home Co. has supplied over 10 million blankets, throws, and other soft home products to top retailers around the globe, since introducing the very first fleece blanket to the world in 1993 under the name Berkshire Blanket. With New England heritage and 25 years of experience, its in-house designers produce on-trend palettes and patterns, in unexpected, impactful packaging. As the trusted designer of both tried and true textures and technologies, and a pioneer of new fabrics and techniques, Berkshire Blanket & Home Co.'s claims to fame include Microfleece™ sheets, and breakthrough fabrications such as Serasoft®, Fluffie™ and VelvetLoft®. Its deep partnership with Sumec Textile & Light Industry Co., Ltd. enables efficiencies and first to market advantages that are unrivaled in the industry.
About SUMEC
Founded in 1993, Sumec Textile & Light Industry Co., Ltd. is a subsidiary company of Sumec Group, and mainly deals with garments, home textiles and home articles. With 15 years of rapid progress, it has developed into a large-scale textile company with 15 trading divisions covering the garment, home-textile, and fabric businesses, with 4 overseas branches, 3 invested holding companies, and 10 fully-owned factories. The biggest manufacturing base is located in Nanjing Luhe Economic Zone where there are 4 garment factories, a high-efficiency sampling center, and the home-textile factory.