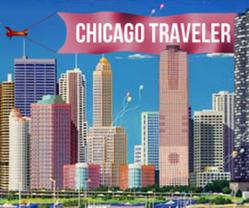 Chicago, Illinois (PRWEB) July 08, 2013
Staying near the Chicago O'Hare airport comes with a lot of perks, but a complimentary shuttle is one of the top perks. Many people stay near O'Hare on a long layover, when they're traveling for business, or just when they're looking for a great price on a Chicago hotel. Hotels near O'Hare airport often have great pools, fitness centers, restaurants and spas, just like hotels in Chicago Loop. Every guest can still take the Blue Line and be at their favorite Chicago attractions in about 20 minutes, and take an airport shuttle they arrive, or when it's time to leave for good.
Chicago Marriott O'Hare
Many people love the comfort and familiarity that comes with the Marriott name, but those who've had the pleasure of this particular Marriott probably appreciate this line of hotels even more. This beautiful 3.5 star hotel near O'Hare airport offers complimentary shuttle service, a 24-hour fitness center, a 24-hour, self-service business center. The fun, and the work, never has to stop just because the sun sets (or hasn't risen yet) and the Chicago Marriott O'Hare knows this. The hotel is one of the top picks by ChicagoTraveler.com because it's perfect for business travelers, families and budget travel. The hotel is also walking distance from the train, so everyone can easily head downtown to check out all the top Chicago attractions as often as they'd like, and after a long day of sightseeing this summer, jump in the pool to cool off! The warm and friendly staff at Chicago Marriott O'Hare is just icing on an already decadent cake.
The Hilton Garden Inn Chicago/O'Hare Airport
Another convenient hotel with complimentary airport shuttle service, this Hilton hotel, is great for business travelers, and even better for business travelers who decide to bring the family along for vacation. The hotel has a cool indoor pool, a children's pool and a spa tub, so every kid thoroughly enjoys their stay here even more than the grownups do. The Hilton Garden Inn is one of the best hotels near O'Hare with free parking, which makes it easy to get everywhere without paying an arm and a leg. Don't feel the need to rent a car though, because in addition to the complimentary roundtrip airport shuttle, this O'Hare hotel also offer a complimentary casino shuttle to the nearby Chicago casino, Rivers Casino. All of the rooms are clean, comfortable and best of all, very affordable.
Hyatt Regency O'Hare
For business travelers who like to spend their spare time enjoying a new city and having fun, the Hyatt is a perfect Choice. The hotel offers over 100,000 square feet of meeting space since it's connected to the Donald E. Stephens Convention Center, so it's always a top choice many business travelers. Guests don't have to be all work though. The hotel is just 2 blocks from the Rosemont Theater, and Wrigley Field is less than 12 miles away. This O'Hare airport hotel offers a complimentary airport shuttle, and a 24-hour fitness center and business center to accommodate every schedule. Many of the rooms have balconies, which make the summer evenings very enjoyable and the views better than most hotels in the city can even offer, but all of the rooms are spacious and welcoming.
The Westin O'Hare
This 4-star O'Hare airport hotel is located near tons of popular attractions, including MB Financial Park's Entertainment District, Chicago's Fashion Outlet Mall, Akoo Theater, All State Arena and The Donald E. Stephens Convention Center. The complimentary fitness center has all the best equipment, the indoor pool and hot tub are far above average, and this O'Hare airport hotel is also pet friendly! For being a 4-star hotel, the rooms are not much more expensive than the hotels that surround it, and a it often takes less than 20 minutes to get to Downtown Chicago.
Embassy Suites - Chicago O'Hare - Rosemont
Chicago is known for great food, but that doesn't mean that travelers should have to eat out and pay for every meal. That gets pricey. Luckily, this Embassy Suites near Chicago O'Hare provides complimentary breakfast every morning, offering cooked to order meals. A gorgeous all-suite hotel, inspired by Frank Lloyd Wright, guests are also treated to complimentary premium channels, a complimentary airport shuttle, an indoor pool, whirlpool and 24 hour fitness center. Pet friendly hotels don't get much better than this one either, and unlike many, they allow multiple (2) pets up to 50 lbs. The prices are great, and all the complimentary perks at this O'Hare airport hotel make them a stay here even better.
Staying at one of the hotels near Chicago O'Hare Airport is a huge money saver, and an obvious choice for business travelers. These hotels all offer complimentary airport shuttle, but they offer so much more that make them top choices for ChicagoTraveler.com and every Chicago traveler. Chicago transportation makes it easy to get to all the attractions any guest would want to see, so a good time and great experience at any of these hotels is always an option.
About ChicagoTraveler.com:
Chicago is one of the top vacation destinations in America famous for their annual events, popular foods, architecture and top sports teams. ChicagoTraveler.com guides travelers to all the best things to do, top places to eat and deals on the best places to stay in Chicago. Lizz Riggs, editor of ChicagoTraveler.com, can help travelers find all the best things to do, places to stay and deals to take advantage of on their next trip.