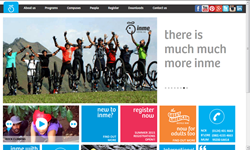 We wanted something that was different and unique that parents can achieve an overall growth for their kids
(PRWEB) March 18, 2015
The founders of Inme realized that there was something truly amazing missing for kids once school let out for the summer break in India so it was decided to put together a camp that works with kids of all ages. It is not an ordinary camp but rather breaks out of the traditional mold and teaches kids multiple skills and techniques based on their age level and abilities.
Teens can participate in rock climbing tours that provide a physical and mental adventure.. There are several camp locations so parents can select one that is geographically convenient as well as working in the schedule for dates.
"We wanted something that was different and unique that parents can achieve an overall growth for their kids ," according to Tarun Chandna. CEO, inme Learning. To that end this camp offers hikes, deep sea adventures, rafting, kayaking, biking and expeditions where kids can sleep in tents and learn how to set them up, tear them down and hike with backpacks.
Parents no longer have to relegate kids to spending time at home for weeks on end but can send them off to locations where they will see nature in all its glory and get their fill of fresh air. Inme makes the sign up process as easy as possible with online downloadable forms and documentation.
Inme arranges summer camps for kids with awesome activities. The website is very detailed with each camp location clearly described and the various challenges listed so that adults can determine what works best for their child or can choose from multiple options to provide a well-rounded experience. Costs and fees are listed and schedules are advertised in advance so individuals can plan ahead for the summer. Your kids will rate this camp as one of the best adventures they will have in their childhood and will be begging to go back again year after year.
About The Company:
Inme was developed a program that provides children ages 9-18 years old a place to explore, experience adventure and develop a variety of skills. This company also works with schools for teacher education and workshops within the classroom. The organization arranges highly entertaining summer camps for teens. For exhilarating rock climbing tours in India, they have earned a reputation for themselves.
Contact Information:
NCR Office: 4 Bougainvillea Marg, DLF II, Gurgaon, Haryana – 122 022
Telephone: (0124) 401 4663
Bangalore Office: No 89, 5th Main, First A Cross, Domlur Second Stage, Bangalore 560071
Telephone: 080 41554663
Mumbai Office: No 11, Shubh CHSL, KD Gaikwad Rd, Mulund (West), Mumbai 400080
Telephone: +91 9920064414
Website: http://www.inme.in/
# # #