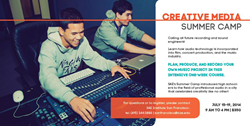 Campers will produce their own project in this intensive one-week session, which they'll present on the last day of the camp week. They'll also gain valuable studio knowledge and connect with other teens who share their passion for audio technology.
San Francisco, CA (PRWEB) June 05, 2014
SAE Institute's San Francisco campus is accepting sign-ups for their inaugural Creative Media Summer Camp. The camp will run from June 23 through June 27, and will introduce participating youngsters to the excitement of audio engineering.
"When our campers complete their week-long SAE camp experience, they'll have gotten a brief yet comprehensive taste of how audio technology is incorporated into film, concert production, and the music industry," says Kirk Engel, SAE San Francisco Campus Director. "They'll be working on professional equipment and gaining useful insights that will provide them with valuable lifelong creative media skills."
The daily classes, sessions, workshops, and presentations at SAE San Francisco's Creative Media Summer Camp will include:

Introduction to modern music production and music theory
Introduction to Logic Pro X, Digital Audio Workstations, and MIDI controllers
Concepts of songwriting, including lyric writing and song structure
Recording vocals and recording techniques
Editing, pre-mixing, and common mixing practices
Introduction to different effects, including compression, equalization, reverb, delays, and other time-based and dynamic-based effects
"Campers will plan, produce, and record their own music project in this intensive one-week session, which they'll present to their family, friends, and fellow campers on the last day of the camp week," says Engel. "They'll also gain essential studio knowledge and make great connections with other teens who share their passion for audio technology."
The Creative Media Summer Camp will be held at SAE Institute's San Francisco campus, located at 450 Bryant Street, #100. The week-long session will begin on Monday, June 23 and run through Friday, June 27. Daily camp sessions will take place from 9:00AM to 4:00PM. Enrollment is open to high school juniors and seniors. The cost for the one-week program is $200. For more information or to sign-up, contact Talia Benet at SAE Institute San Francisco: 510 500-6794 / t(dot)benet(at)sae(dot)edu