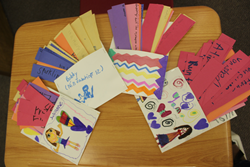 Edison, NJ (PRWEB) March 31, 2015
Registration is now open for half-day Summer Reading Camp at ALOHA centers across the country; please call to check availability.* Created for children ages 5-12, ALOHA's Summer Reading Camp offers a balance of learning and fun to keep kid's minds sharp during the summer; more information http://alohamindmath.com/program/summercamp/.
At the ALOHA Summer Reading Camp, children get to read popular books that they want to read, which have also been carefully selected by ALOHA instructors as grade-level reading. Children can: enjoy interactive projects, explore creative writing, make new friends, develop a love for reading, improve vocabulary skills & enrich their creative side...all in a safe learning environment. The program also supports Common Core reading and writing objectives.
ALOHA is also offering Accelerated Math & Reading | Writing learning programs this summer as well. Students who are already enrolled in a program can take ALOHA's normal programs at an accelerated pace during half-day programs, instead of once a week over several months. If a student is new to ALOHA program, they can discuss with a center owner if this is a good fit for the student or not.
*Each ALOHA learning center is independently owned and operated; participation in both programs may vary. Contact a local center directly for details and to see if they are participating. Click for more ALOHA Summer Reading Camp information, check the ALOHA Facebook page or call 877-256-4203 to find if a local center is participating.
What is ALOHA?
Launched in the U.S. in 2006, ALOHA is a leading provider of mental arithmetic and English Reading | Writing programs. ALOHA stands for "Abacus Learning of Higher Arithmetic." An abacus is an ancient calculator tool used by sliding beads to count. ALOHA has been guiding children between the ages of 5 through 12 to achieve academic excellence in grades 1 through 5. The interactive learning process is proven to enhance a child's math, reading and writing capabilities. The teachers also assist children in developing skills and abilities such as observation and listening that result in the overall growth of the child and that build confidence. ALOHA is currently training children in 18 states and in 20 countries with over 4,200 different centers. For more details on this unique program please visit our website and search for the center closest to you by using our locator http://alohamindmath.com/locations/