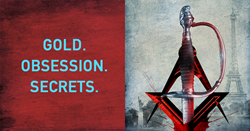 Fast-paced and chilling, an electrifying narrative that combines a historical thriller with modern speed and humor.
New York, New York (PRWEB) August 10, 2016
Gold. Obsession. Secrets.
Eric Giacometti and Jacques Ravenne rank at the top of France's best-selling thriller writers list. They owe their international renown to their series about the Freemason Inspector Antoine Marcas, which made its U.S. debut last year with Shadow Ritual. Now, The Lafayette Sword is available in English.
Following the murder of a Freemason brother, Antoine Marcas uncovers unsettling truths about gold and its power to fascinate and corrupt. A priceless sword is stolen and deaths ensue setting the Freemason detective on a case of Masons turned bad. A clue points to mysteries and conspiracy about elusive pure gold, launching a frantic, deadly race between two symbolic places—the Statue of Liberty and the Eiffel Tower. A captivating plot weaves alchemy and the Middle Ages into a modern-day thriller.
Immediate access to a sneak preview is available.
A "phenomenal series"
Ancient myths, secret societies, chilling narrative, and fast-paced intrigue offer escape reading in the lines of Robert Ludlum, Dan Brown and Steve Berry. This series electrified France and went on to sell over 2 million copies worldwide. French Freemason and historian Jacques Ravenne's insider knowledge combines with Eric Giacometti's fast-paced writing and reporter's understanding of the modern world. Douglas Preston calls it "phenomenal." The stories center on a Freemason cop who, because of his affiliation with this group, gets assigned to investigations related to esoteric groups, with symbols, mysteries, mishaps and adventure.
The book is available at a special low launch price for a limited time only.
Praise for the series
"Vivid characters, evocative international settings, and a history darker than midnight. I highly recommend!" —Douglas Preston, #1 bestselling coauthor of the famed Pendergast series of novel
"A race against the clock." —Le Figaro
"A superbly esoteric blend of history and adventure." —Glenn Cooper, internationally bestselling thriller writer
"Giacometti and Ravenne's series kickoff has abundant visceral appeal." —Kirkus Reviews
"Brilliantly plotted and well researched." —Le Parisien
The authors
Eric Giacometti studied biochemistry and genetics in Toulouse, France, before going into journalism. Then, at the height of his career as an investigative reporter, Eric Giacometti was contaminated by the thriller virus. His life took on another dimension: journalist by day, writer by night. In 2013, he left his full-time reporting job with a French daily newspaper to work freelance and write. He teaches journalism and writing.
Jacques Ravenne is a high-level French Freemason. He is also a literary critic, known for his work on the writers Paul Valéry, Yves Bonnefoy, Gérard de Nerval and Stéphane Mallarmé. In addition to his academic work, he was also a local elected official for a number of years, and contributes regularly to Freemason publications. He discovered the Marquis de Sade's château in 1985, beginning a long fascination with the man, which has resulted in an anthology of his correspondence and a novel based on Sade's life.
The book
THE LAFAYETTE SWORD by Eric Giacometti & Jacques Ravenne; translated by Anne Trager—published by Le French Book—ISBN: 9781943998043 (trade paperback)/ 9781943998036 (ebook) — First published in French (Frère de Sang, Fleuve Noire, Paris)—Release: August 15, 2015.
About Le French Book
Founded in 2011, Le French Book is an independent book publisher focused on bringing France's best mysteries and thrillers and other stories to new readers across the English-speaking world. For more information, please visit: http://www.lefrenchbook.com.
©2016 Le French Book, Inc. All rights reserved. Information is subject to change without notice.