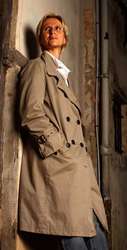 Fine procedurals, with a vividly evoked Paris setting, compelling characters, and plenty of suspense.
New York, New York (PRWEB) July 13, 2015
Mystery and thriller publisher Le French Book has chosen three police procedurals by "the French Michael Connelly" to discount for its July summer reading sale that will kick off just in time for Bastille Day on July 13. A steep discount of 60% off the regular ebook price will apply through July 30.
In the Paris Homicide series by Frédérique Molay, there's no rest for Paris' top criminal investigation division. Chief of Police Nico Sirsky—a super cop with a modern-day real life, including an ex-wife, a teenage son and a budding love story—watches over the streets of the French capital in a series that leads readers behind the scenes with the French police and into the coroner's office. It has the suspense of Seven, with CSI-like details, giving a whole new dimension to Paris.
The first book in this series—The 7th Woman—won one of France's most prestigious crime fiction awards, the Prix du Quai des Orfèvres and was named Best Crime Novel of the Year. Paris mystery writer Cara Black says its "well-drawn characters and ratcheting suspense won't let you put the book down." Foreword Reviews calls it "an extraordinary, hard-hitting novel." NYT bestseller Robert Dugoni says "Inspector Nico Sirsky is every bit as engaging and dogged as Arkady Renko in Gorky Park."
The other books in the series have been similarly well-received:
"A sophisticated murder mystery" —The Durango Herald
"Molay is just the ticket." —Publishers Weekly
"Procedural fans will appreciate the fresh take." —Booklist (on Crossing the Line)
"This is a fine procedural, with a vividly evoked Paris setting, compelling characters and plenty of suspense." —Booklist on The City of Blood
So far, the series has three books in English:
The 7th Woman (9780985320676)
Crossing the Line (9781939474155)
The City of Blood (9781939474179)
Discounted prices are available on the major ebook platforms.
About Le French Book
Le French Book is a New York-based publisher that brings France's best mysteries and thrillers to new readers across the English-speaking world. Its motto is: "If we love it, we'll translate it."
©2015 Le French Book, Inc. All rights reserved. Information is subject to change without notice.