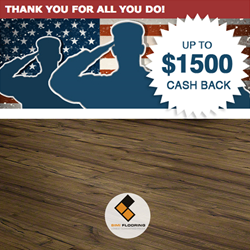 Simi Flooring will keep their large selection of flooring for Ventura County on sale through June 30.
Simi Valley, California (PRWEB) May 29, 2014
Since 1988, Simi Flooring has been committed to providing top-quality flooring to its Southern California community with excellent customer service and deals for locals.This week, Simi Flooring announces they will continue to offer the special sale prices and exclusive rebates to veterans of the United States Army and also locals of Ventura County. Simi Flooring has one of the largest flooring showrooms in Ventura County, so now is a better time than ever to take advantage of their clearance prices and 0% financing. This Simi Valley flooring sale with continue from now until Monday, June 30th. This sale is perfect for anyone looking to complete spring renovations and enjoy a new look in the home this summer season. Whether it is hardwood flooring for a newly remodeled kitchen or tile for an outdoor deck, this flooring sale offers name-brand flooring options at extremely reasonable and fair prices.
This Simi Valley flooring sale applies to any hardwood flooring, laminate flooring, tile, or carpet, with installation. Simi Flooring will keep their large selection of flooring for Ventura County on sale through June 30. Any residents of Ventura County with local ID, or any local veterans with ID, can take advantage of this exclusive pre-summer "stepping into summer" flooring sale. As a local resident, there is a 10% rebate offered for every $1000 spent, and this can go up to purchases of $10,000 on all participating name brand flooring. As a veteran, Simi Flooring is offering a 15% rebate through the month of June, with the opportunity to get up to $1500 back on purchases of up to $10,000. Another exclusive going on through the June sale is zero percent financing for up to three years. This offer will expire June 10, 2014, so now is the best time to take advantage of these early summer deals to accomplish and remodeling goals.
Another great feature of shopping locally as a Ventura County resident this summer is that Simi Flooring also offers delivery at zero cost for locals of Ventura County within three days of purchase, and long-term warranties, varying amongst different brands. For more information regarding this early summer Simi Valley flooring sale, check out the details on their website.
Simi Flooring
25 West Easy St. #303
Simi Valley, CA 93065
-Brought to you by TRIXMEDIA : Creating Possibilities
Branding Firm Beverly Hills, California.